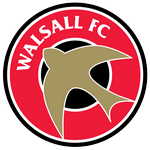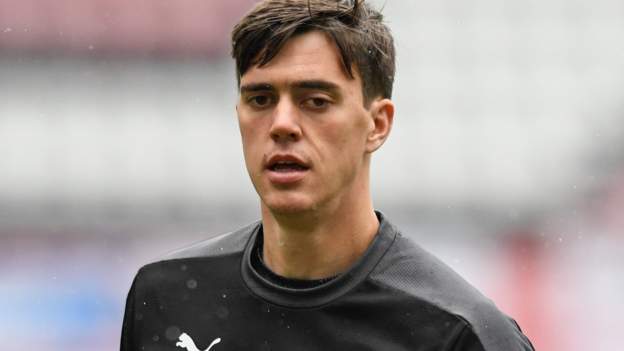 Walsall sign Cheltenham goalkeeper Evans
---
New Walsall keeper Owen Evans began his career at Hereford United
Walsall have made their ninth summer signing by bringing in Cheltenham Town's former Wales Under-21 goalkeeper Owen Evans for an undisclosed fee.
The 25-year-old ex-Wigan Athletic keeper has agreed a two-year deal.
"Owen is a very talented keeper," said boss Michael Flynn. "He's played in League One with Cheltenham, good experience with Wigan, been with Wales U21s and has the potential to kick on.
"He showed a real desire to come to the football club and is eager to do well."
Newport-born Evans, who began his career at Hereford United before signing his first professional contract at Wigan, during which he was loaned out to non-league clubs Witton Albion, Rhyl, North Ferriby United and Sutton United.
He then had loan spells with Leyton Orient, Macclesfield Town and Cheltenham before returning to Whaddon Road on a more permanent basis in the summer of 2021, ahead of making 32 appearances last season.
Find all the latest football transfers on our dedicated page.
Continue Reading
To continue reading please choose to download our free app, or visit the original website.

League Table
^

 

Illuminate\Database\Eloquent\Collection

 {#1985
  #

items

: 

array:24

 [
    

0

 => 

App\Models

\

LeagueTable {#1992
      #

connection

: "

mysql

"
      #

table

: "

league_tables

"
      #

primaryKey

: "

id

"
      #

keyType

: "

int

"
      +

incrementing

: 

true


      #

with

: []
      #

withCount

: []
      +

preventsLazyLoading

: 

false


      #

perPage

: 

15


      +

exists

: 

true


      +

wasRecentlyCreated

: 

false


      #

escapeWhenCastingToString

: 

false


      #

attributes

: 

array:16

 [
        "

id

" => 

81


        "

league_id

" => 

8


        "

team_id

" => 

131


        "

team_name

" => "

Salford City

"
        "

form

" => "

WDWW

"
        "

position

" => 

1


        "

played

" => 

4


        "

won

" => 

3


        "

drawn

" => 

1


        "

lost

" => 

0


        "

for

" => 

8


        "

against

" => 

2


        "

gd

" => 

6


        "

points

" => 

10


        "

created_at

" => "

2022-08-17 21:40:56

"
        "

updated_at

" => "

2022-08-17 21:40:56

"
      ]
      #

original

: 

array:16

 [
        "

id

" => 

81


        "

league_id

" => 

8


        "

team_id

" => 

131


        "

team_name

" => "

Salford City

"
        "

form

" => "

WDWW

"
        "

position

" => 

1


        "

played

" => 

4


        "

won

" => 

3


        "

drawn

" => 

1


        "

lost

" => 

0


        "

for

" => 

8


        "

against

" => 

2


        "

gd

" => 

6


        "

points

" => 

10


        "

created_at

" => "

2022-08-17 21:40:56

"
        "

updated_at

" => "

2022-08-17 21:40:56

"
      ]
      #

changes

: []
      #

casts

: []
      #

classCastCache

: []
      #

attributeCastCache

: []
      #

dates

: []
      #

dateFormat

: 

null


      #

appends

: 

array:1

 [
        

0

 => "

goals_for

"
      ]
      #

dispatchesEvents

: []
      #

observables

: []
      #

relations

: 

array:1

 [
        "

team

" => 

App\Models

\

Team {#2040
          #

connection

: "

mysql

"
          #

table

: "

teams

"
          #

primaryKey

: "

id

"
          #

keyType

: "

int

"
          +

incrementing

: 

true


          #

with

: 

array:1

 [
            

0

 => "

league

"
          ]
          #

withCount

: []
          +

preventsLazyLoading

: 

false


          #

perPage

: 

15


          +

exists

: 

true


          +

wasRecentlyCreated

: 

false


          #

escapeWhenCastingToString

: 

false


          #

attributes

: 

array:14

 [
            "

id

" => 

131


            "

name

" => "

Salford City

"
            "

league_id

" => 

8


            "

color

" => "

#b20016

"
            "

alt_color

" => "

#333333

"
            "

highlight_color

" => "

#000000

"
            "

text_color

" => "

#ffffff

"
            "

logo

" => "

https://fn365images.s3.eu-west-1.amazonaws.com/teamlogos/Salford%2BCity/9923f87f-8440-4a53-a15c-013757375846.png

"
            "

home_kit

" => "

https://fn365images.s3.eu-west-1.amazonaws.com/teamlogos/Salford%2BCity-home_kit.png

"
            "

away_kit

" => "

https://fn365images.s3.eu-west-1.amazonaws.com/teamlogos/Salford%2BCity-away_kit.png

"
            "

apif_id

" => 

1844


            "

apif_logo

" => "

https://media.api-sports.io/football/teams/1844.png

"
            "

short_name

" => "

Salford City

"
            "

api_token

" => "

tgJ2TlsYdjaQniMI3bGFkvzep47H204Jr74qwNoy6heIKHaopkTzBfeucaYg

"
          ]
          #

original

: 

array:14

 [
            "

id

" => 

131


            "

name

" => "

Salford City

"
            "

league_id

" => 

8


            "

color

" => "

#b20016

"
            "

alt_color

" => "

#333333

"
            "

highlight_color

" => "

#000000

"
            "

text_color

" => "

#ffffff

"
            "

logo

" => "

https://fn365images.s3.eu-west-1.amazonaws.com/teamlogos/Salford%2BCity/9923f87f-8440-4a53-a15c-013757375846.png

"
            "

home_kit

" => "

https://fn365images.s3.eu-west-1.amazonaws.com/teamlogos/Salford%2BCity-home_kit.png

"
            "

away_kit

" => "

https://fn365images.s3.eu-west-1.amazonaws.com/teamlogos/Salford%2BCity-away_kit.png

"
            "

apif_id

" => 

1844


            "

apif_logo

" => "

https://media.api-sports.io/football/teams/1844.png

"
            "

short_name

" => "

Salford City

"
            "

api_token

" => "

tgJ2TlsYdjaQniMI3bGFkvzep47H204Jr74qwNoy6heIKHaopkTzBfeucaYg

"
          ]
          #

changes

: []
          #

casts

: 

array:5

 [
            "

twitter_bot_enabled

" => "

boolean

"
            "

twitter_post_tweets

" => "

boolean

"
            "

twitter_dm_enabled

" => "

boolean

"
            "

twitter_landing_page

" => "

boolean

"
            "

chat_rooms

" => "

array

"
          ]
          #

classCastCache

: []
          #

attributeCastCache

: []
          #

dates

: []
          #

dateFormat

: 

null


          #

appends

: 

array:7

 [
            

0

 => "

apple_id

"
            

1

 => "

has_iap

"
            

2

 => "

has_onesignal

"
            

3

 => "

league_name

"
            

4

 => "

has_twitter

"
            

5

 => "

has_chat

"
            

6

 => "

slug

"
          ]
          #

dispatchesEvents

: []
          #

observables

: []
          #

relations

: 

array:1

 [
            "

league

" => 

App\Models

\

League {#1892 …30}
          ]
          #

touches

: []
          +

timestamps

: 

true


          #

hidden

: 

array:2

 [
            

0

 => "

fms_token

"
            

1

 => "

pem_file

"
          ]
          #

visible

: []
          #

fillable

: []
          #

guarded

: []
        }
      ]
      #

touches

: []
      +

timestamps

: 

true


      #

hidden

: []
      #

visible

: []
      #

fillable

: []
      #

guarded

: 

array:1

 [
        

0

 => "

*

"
      ]
    }
    

1

 => 

App\Models

\

LeagueTable {#1993
      #

connection

: "

mysql

"
      #

table

: "

league_tables

"
      #

primaryKey

: "

id

"
      #

keyType

: "

int

"
      +

incrementing

: 

true


      #

with

: []
      #

withCount

: []
      +

preventsLazyLoading

: 

false


      #

perPage

: 

15


      +

exists

: 

true


      +

wasRecentlyCreated

: 

false


      #

escapeWhenCastingToString

: 

false


      #

attributes

: 

array:16

 [
        "

id

" => 

82


        "

league_id

" => 

8


        "

team_id

" => 

130


        "

team_name

" => "

Leyton Orient

"
        "

form

" => "

WWWD

"
        "

position

" => 

2


        "

played

" => 

4


        "

won

" => 

3


        "

drawn

" => 

1


        "

lost

" => 

0


        "

for

" => 

5


        "

against

" => 

1


        "

gd

" => 

4


        "

points

" => 

10


        "

created_at

" => "

2022-08-17 21:40:56

"
        "

updated_at

" => "

2022-08-17 21:40:56

"
      ]
      #

original

: 

array:16

 [
        "

id

" => 

82


        "

league_id

" => 

8


        "

team_id

" => 

130


        "

team_name

" => "

Leyton Orient

"
        "

form

" => "

WWWD

"
        "

position

" => 

2


        "

played

" => 

4


        "

won

" => 

3


        "

drawn

" => 

1


        "

lost

" => 

0


        "

for

" => 

5


        "

against

" => 

1


        "

gd

" => 

4


        "

points

" => 

10


        "

created_at

" => "

2022-08-17 21:40:56

"
        "

updated_at

" => "

2022-08-17 21:40:56

"
      ]
      #

changes

: []
      #

casts

: []
      #

classCastCache

: []
      #

attributeCastCache

: []
      #

dates

: []
      #

dateFormat

: 

null


      #

appends

: 

array:1

 [
        

0

 => "

goals_for

"
      ]
      #

dispatchesEvents

: []
      #

observables

: []
      #

relations

: 

array:1

 [
        "

team

" => 

App\Models

\

Team {#2039
          #

connection

: "

mysql

"
          #

table

: "

teams

"
          #

primaryKey

: "

id

"
          #

keyType

: "

int

"
          +

incrementing

: 

true


          #

with

: 

array:1

 [
            

0

 => "

league

"
          ]
          #

withCount

: []
          +

preventsLazyLoading

: 

false


          #

perPage

: 

15


          +

exists

: 

true


          +

wasRecentlyCreated

: 

false


          #

escapeWhenCastingToString

: 

false


          #

attributes

: 

array:14

 [
            "

id

" => 

130


            "

name

" => "

Leyton Orient

"
            "

league_id

" => 

8


            "

color

" => "

#d9281c

"
            "

alt_color

" => "

#010011

"
            "

highlight_color

" => "

#000000

"
            "

text_color

" => "

#ffffff

"
            "

logo

" => "

https://fn365images.s3.eu-west-1.amazonaws.com/teamlogos/Leyton%2BOrient/cfc3639d-5e8f-47c4-a8ea-91a0f627d583.png

"
            "

home_kit

" => "

https://fn365images.s3.eu-west-1.amazonaws.com/teamlogos/Leyton%2BOrient-home_kit.png

"
            "

away_kit

" => "

https://fn365images.s3.eu-west-1.amazonaws.com/teamlogos/Leyton%2BOrient-away_kit.png

"
            "

apif_id

" => 

1373


            "

apif_logo

" => "

https://media.api-sports.io/football/teams/1373.png

"
            "

short_name

" => "

Leyton Orient

"
            "

api_token

" => "

OUXgzTGUsm3g9GWDqK262O9L1tBQawcZTEy9G4a0OoFxHhrKeRKqfOysIVYF

"
          ]
          #

original

: 

array:14

 [
            "

id

" => 

130


            "

name

" => "

Leyton Orient

"
            "

league_id

" => 

8


            "

color

" => "

#d9281c

"
            "

alt_color

" => "

#010011

"
            "

highlight_color

" => "

#000000

"
            "

text_color

" => "

#ffffff

"
            "

logo

" => "

https://fn365images.s3.eu-west-1.amazonaws.com/teamlogos/Leyton%2BOrient/cfc3639d-5e8f-47c4-a8ea-91a0f627d583.png

"
            "

home_kit

" => "

https://fn365images.s3.eu-west-1.amazonaws.com/teamlogos/Leyton%2BOrient-home_kit.png

"
            "

away_kit

" => "

https://fn365images.s3.eu-west-1.amazonaws.com/teamlogos/Leyton%2BOrient-away_kit.png

"
            "

apif_id

" => 

1373


            "

apif_logo

" => "

https://media.api-sports.io/football/teams/1373.png

"
            "

short_name

" => "

Leyton Orient

"
            "

api_token

" => "

OUXgzTGUsm3g9GWDqK262O9L1tBQawcZTEy9G4a0OoFxHhrKeRKqfOysIVYF

"
          ]
          #

changes

: []
          #

casts

: 

array:5

 [
            "

twitter_bot_enabled

" => "

boolean

"
            "

twitter_post_tweets

" => "

boolean

"
            "

twitter_dm_enabled

" => "

boolean

"
            "

twitter_landing_page

" => "

boolean

"
            "

chat_rooms

" => "

array

"
          ]
          #

classCastCache

: []
          #

attributeCastCache

: []
          #

dates

: []
          #

dateFormat

: 

null


          #

appends

: 

array:7

 [
            

0

 => "

apple_id

"
            

1

 => "

has_iap

"
            

2

 => "

has_onesignal

"
            

3

 => "

league_name

"
            

4

 => "

has_twitter

"
            

5

 => "

has_chat

"
            

6

 => "

slug

"
          ]
          #

dispatchesEvents

: []
          #

observables

: []
          #

relations

: 

array:1

 [
            "

league

" => 

App\Models

\

League {#1892 …30}
          ]
          #

touches

: []
          +

timestamps

: 

true


          #

hidden

: 

array:2

 [
            

0

 => "

fms_token

"
            

1

 => "

pem_file

"
          ]
          #

visible

: []
          #

fillable

: []
          #

guarded

: []
        }
      ]
      #

touches

: []
      +

timestamps

: 

true


      #

hidden

: []
      #

visible

: []
      #

fillable

: []
      #

guarded

: 

array:1

 [
        

0

 => "

*

"
      ]
    }
    

2

 => 

App\Models

\

LeagueTable {#1994
      #

connection

: "

mysql

"
      #

table

: "

league_tables

"
      #

primaryKey

: "

id

"
      #

keyType

: "

int

"
      +

incrementing

: 

true


      #

with

: []
      #

withCount

: []
      +

preventsLazyLoading

: 

false


      #

perPage

: 

15


      +

exists

: 

true


      +

wasRecentlyCreated

: 

false


      #

escapeWhenCastingToString

: 

false


      #

attributes

: 

array:16

 [
        "

id

" => 

83


        "

league_id

" => 

8


        "

team_id

" => 

94


        "

team_name

" => "

Northampton Town

"
        "

form

" => "

WDWW

"
        "

position

" => 

3


        "

played

" => 

4


        "

won

" => 

3


        "

drawn

" => 

1


        "

lost

" => 

0


        "

for

" => 

9


        "

against

" => 

6


        "

gd

" => 

3


        "

points

" => 

10


        "

created_at

" => "

2022-08-17 21:40:56

"
        "

updated_at

" => "

2022-08-17 21:40:56

"
      ]
      #

original

: 

array:16

 [
        "

id

" => 

83


        "

league_id

" => 

8


        "

team_id

" => 

94


        "

team_name

" => "

Northampton Town

"
        "

form

" => "

WDWW

"
        "

position

" => 

3


        "

played

" => 

4


        "

won

" => 

3


        "

drawn

" => 

1


        "

lost

" => 

0


        "

for

" => 

9


        "

against

" => 

6


        "

gd

" => 

3


        "

points

" => 

10


        "

created_at

" => "

2022-08-17 21:40:56

"
        "

updated_at

" => "

2022-08-17 21:40:56

"
      ]
      #

changes

: []
      #

casts

: []
      #

classCastCache

: []
      #

attributeCastCache

: []
      #

dates

: []
      #

dateFormat

: 

null


      #

appends

: 

array:1

 [
        

0

 => "

goals_for

"
      ]
      #

dispatchesEvents

: []
      #

observables

: []
      #

relations

: 

array:1

 [
        "

team

" => 

App\Models

\

Team {#2027
          #

connection

: "

mysql

"
          #

table

: "

teams

"
          #

primaryKey

: "

id

"
          #

keyType

: "

int

"
          +

incrementing

: 

true


          #

with

: 

array:1

 [
            

0

 => "

league

"
          ]
          #

withCount

: []
          +

preventsLazyLoading

: 

false


          #

perPage

: 

15


          +

exists

: 

true


          +

wasRecentlyCreated

: 

false


          #

escapeWhenCastingToString

: 

false


          #

attributes

: 

array:14

 [
            "

id

" => 

94


            "

name

" => "

Northampton Town

"
            "

league_id

" => 

8


            "

color

" => "

#862633

"
            "

alt_color

" => "

#333333

"
            "

highlight_color

" => "

#0a2f37

"
            "

text_color

" => "

#ffffff

"
            "

logo

" => "

https://fn365images.s3.eu-west-1.amazonaws.com/teamlogos/Northampton/3ab37145-ba34-42f0-90dc-8f570012478e.png

"
            "

home_kit

" => "

https://fn365images.s3.eu-west-1.amazonaws.com/teamlogos/Northampton%2BTown-home_kit.png

"
            "

away_kit

" => "

https://fn365images.s3.eu-west-1.amazonaws.com/teamlogos/Northampton%2BTown-away_kit.png

"
            "

apif_id

" => 

1337


            "

apif_logo

" => "

https://media.api-sports.io/football/teams/1337.png

"
            "

short_name

" => "

Northampton

"
            "

api_token

" => "

zgdBBvzcxmyq07ksfeSUPIawf1rsOJE62MOkM5VlOA7mSGuWY2XxJjPKpPtc

"
          ]
          #

original

: 

array:14

 [
            "

id

" => 

94


            "

name

" => "

Northampton Town

"
            "

league_id

" => 

8


            "

color

" => "

#862633

"
            "

alt_color

" => "

#333333

"
            "

highlight_color

" => "

#0a2f37

"
            "

text_color

" => "

#ffffff

"
            "

logo

" => "

https://fn365images.s3.eu-west-1.amazonaws.com/teamlogos/Northampton/3ab37145-ba34-42f0-90dc-8f570012478e.png

"
            "

home_kit

" => "

https://fn365images.s3.eu-west-1.amazonaws.com/teamlogos/Northampton%2BTown-home_kit.png

"
            "

away_kit

" => "

https://fn365images.s3.eu-west-1.amazonaws.com/teamlogos/Northampton%2BTown-away_kit.png

"
            "

apif_id

" => 

1337


            "

apif_logo

" => "

https://media.api-sports.io/football/teams/1337.png

"
            "

short_name

" => "

Northampton

"
            "

api_token

" => "

zgdBBvzcxmyq07ksfeSUPIawf1rsOJE62MOkM5VlOA7mSGuWY2XxJjPKpPtc

"
          ]
          #

changes

: []
          #

casts

: 

array:5

 [
            "

twitter_bot_enabled

" => "

boolean

"
            "

twitter_post_tweets

" => "

boolean

"
            "

twitter_dm_enabled

" => "

boolean

"
            "

twitter_landing_page

" => "

boolean

"
            "

chat_rooms

" => "

array

"
          ]
          #

classCastCache

: []
          #

attributeCastCache

: []
          #

dates

: []
          #

dateFormat

: 

null


          #

appends

: 

array:7

 [
            

0

 => "

apple_id

"
            

1

 => "

has_iap

"
            

2

 => "

has_onesignal

"
            

3

 => "

league_name

"
            

4

 => "

has_twitter

"
            

5

 => "

has_chat

"
            

6

 => "

slug

"
          ]
          #

dispatchesEvents

: []
          #

observables

: []
          #

relations

: 

array:1

 [
            "

league

" => 

App\Models

\

League {#1892 …30}
          ]
          #

touches

: []
          +

timestamps

: 

true


          #

hidden

: 

array:2

 [
            

0

 => "

fms_token

"
            

1

 => "

pem_file

"
          ]
          #

visible

: []
          #

fillable

: []
          #

guarded

: []
        }
      ]
      #

touches

: []
      +

timestamps

: 

true


      #

hidden

: []
      #

visible

: []
      #

fillable

: []
      #

guarded

: 

array:1

 [
        

0

 => "

*

"
      ]
    }
    

3

 => 

App\Models

\

LeagueTable {#1995
      #

connection

: "

mysql

"
      #

table

: "

league_tables

"
      #

primaryKey

: "

id

"
      #

keyType

: "

int

"
      +

incrementing

: 

true


      #

with

: []
      #

withCount

: []
      +

preventsLazyLoading

: 

false


      #

perPage

: 

15


      +

exists

: 

true


      +

wasRecentlyCreated

: 

false


      #

escapeWhenCastingToString

: 

false


      #

attributes

: 

array:16

 [
        "

id

" => 

84


        "

league_id

" => 

8


        "

team_id

" => 

184


        "

team_name

" => "

Stevenage

"
        "

form

" => "

WWDW

"
        "

position

" => 

4


        "

played

" => 

4


        "

won

" => 

3


        "

drawn

" => 

1


        "

lost

" => 

0


        "

for

" => 

6


        "

against

" => 

3


        "

gd

" => 

3


        "

points

" => 

10


        "

created_at

" => "

2022-08-17 21:40:56

"
        "

updated_at

" => "

2022-08-17 21:40:56

"
      ]
      #

original

: 

array:16

 [
        "

id

" => 

84


        "

league_id

" => 

8


        "

team_id

" => 

184


        "

team_name

" => "

Stevenage

"
        "

form

" => "

WWDW

"
        "

position

" => 

4


        "

played

" => 

4


        "

won

" => 

3


        "

drawn

" => 

1


        "

lost

" => 

0


        "

for

" => 

6


        "

against

" => 

3


        "

gd

" => 

3


        "

points

" => 

10


        "

created_at

" => "

2022-08-17 21:40:56

"
        "

updated_at

" => "

2022-08-17 21:40:56

"
      ]
      #

changes

: []
      #

casts

: []
      #

classCastCache

: []
      #

attributeCastCache

: []
      #

dates

: []
      #

dateFormat

: 

null


      #

appends

: 

array:1

 [
        

0

 => "

goals_for

"
      ]
      #

dispatchesEvents

: []
      #

observables

: []
      #

relations

: 

array:1

 [
        "

team

" => 

App\Models

\

Team {#2045
          #

connection

: "

mysql

"
          #

table

: "

teams

"
          #

primaryKey

: "

id

"
          #

keyType

: "

int

"
          +

incrementing

: 

true


          #

with

: 

array:1

 [
            

0

 => "

league

"
          ]
          #

withCount

: []
          +

preventsLazyLoading

: 

false


          #

perPage

: 

15


          +

exists

: 

true


          +

wasRecentlyCreated

: 

false


          #

escapeWhenCastingToString

: 

false


          #

attributes

: 

array:14

 [
            "

id

" => 

184


            "

name

" => "

Stevenage

"
            "

league_id

" => 

8


            "

color

" => 

null


            "

alt_color

" => 

null


            "

highlight_color

" => "

#000000

"
            "

text_color

" => "

#ffffff

"
            "

logo

" => 

null


            "

home_kit

" => 

null


            "

away_kit

" => 

null


            "

apif_id

" => 

1368


            "

apif_logo

" => "

https://media.api-sports.io/football/teams/1368.png

"
            "

short_name

" => "

Stevenage

"
            "

api_token

" => "

dyfbi9xmT8UDoOORjl4vBF7eosNpTviso7UQvV6qQTKYTGccn6Q4N8nQjjtL

"
          ]
          #

original

: 

array:14

 [
            "

id

" => 

184


            "

name

" => "

Stevenage

"
            "

league_id

" => 

8


            "

color

" => 

null


            "

alt_color

" => 

null


            "

highlight_color

" => "

#000000

"
            "

text_color

" => "

#ffffff

"
            "

logo

" => 

null


            "

home_kit

" => 

null


            "

away_kit

" => 

null


            "

apif_id

" => 

1368


            "

apif_logo

" => "

https://media.api-sports.io/football/teams/1368.png

"
            "

short_name

" => "

Stevenage

"
            "

api_token

" => "

dyfbi9xmT8UDoOORjl4vBF7eosNpTviso7UQvV6qQTKYTGccn6Q4N8nQjjtL

"
          ]
          #

changes

: []
          #

casts

: 

array:5

 [
            "

twitter_bot_enabled

" => "

boolean

"
            "

twitter_post_tweets

" => "

boolean

"
            "

twitter_dm_enabled

" => "

boolean

"
            "

twitter_landing_page

" => "

boolean

"
            "

chat_rooms

" => "

array

"
          ]
          #

classCastCache

: []
          #

attributeCastCache

: []
          #

dates

: []
          #

dateFormat

: 

null


          #

appends

: 

array:7

 [
            

0

 => "

apple_id

"
            

1

 => "

has_iap

"
            

2

 => "

has_onesignal

"
            

3

 => "

league_name

"
            

4

 => "

has_twitter

"
            

5

 => "

has_chat

"
            

6

 => "

slug

"
          ]
          #

dispatchesEvents

: []
          #

observables

: []
          #

relations

: 

array:1

 [
            "

league

" => 

App\Models

\

League {#1892 …30}
          ]
          #

touches

: []
          +

timestamps

: 

true


          #

hidden

: 

array:2

 [
            

0

 => "

fms_token

"
            

1

 => "

pem_file

"
          ]
          #

visible

: []
          #

fillable

: []
          #

guarded

: []
        }
      ]
      #

touches

: []
      +

timestamps

: 

true


      #

hidden

: []
      #

visible

: []
      #

fillable

: []
      #

guarded

: 

array:1

 [
        

0

 => "

*

"
      ]
    }
    

4

 => 

App\Models

\

LeagueTable {#1996
      #

connection

: "

mysql

"
      #

table

: "

league_tables

"
      #

primaryKey

: "

id

"
      #

keyType

: "

int

"
      +

incrementing

: 

true


      #

with

: []
      #

withCount

: []
      +

preventsLazyLoading

: 

false


      #

perPage

: 

15


      +

exists

: 

true


      +

wasRecentlyCreated

: 

false


      #

escapeWhenCastingToString

: 

false


      #

attributes

: 

array:16

 [
        "

id

" => 

85


        "

league_id

" => 

8


        "

team_id

" => 

182


        "

team_name

" => "

Barrow

"
        "

form

" => "

WWLW

"
        "

position

" => 

5


        "

played

" => 

4


        "

won

" => 

3


        "

drawn

" => 

0


        "

lost

" => 

1


        "

for

" => 

8


        "

against

" => 

6


        "

gd

" => 

2


        "

points

" => 

9


        "

created_at

" => "

2022-08-17 21:40:56

"
        "

updated_at

" => "

2022-08-17 21:40:56

"
      ]
      #

original

: 

array:16

 [
        "

id

" => 

85


        "

league_id

" => 

8


        "

team_id

" => 

182


        "

team_name

" => "

Barrow

"
        "

form

" => "

WWLW

"
        "

position

" => 

5


        "

played

" => 

4


        "

won

" => 

3


        "

drawn

" => 

0


        "

lost

" => 

1


        "

for

" => 

8


        "

against

" => 

6


        "

gd

" => 

2


        "

points

" => 

9


        "

created_at

" => "

2022-08-17 21:40:56

"
        "

updated_at

" => "

2022-08-17 21:40:56

"
      ]
      #

changes

: []
      #

casts

: []
      #

classCastCache

: []
      #

attributeCastCache

: []
      #

dates

: []
      #

dateFormat

: 

null


      #

appends

: 

array:1

 [
        

0

 => "

goals_for

"
      ]
      #

dispatchesEvents

: []
      #

observables

: []
      #

relations

: 

array:1

 [
        "

team

" => 

App\Models

\

Team {#2043
          #

connection

: "

mysql

"
          #

table

: "

teams

"
          #

primaryKey

: "

id

"
          #

keyType

: "

int

"
          +

incrementing

: 

true


          #

with

: 

array:1

 [
            

0

 => "

league

"
          ]
          #

withCount

: []
          +

preventsLazyLoading

: 

false


          #

perPage

: 

15


          +

exists

: 

true


          +

wasRecentlyCreated

: 

false


          #

escapeWhenCastingToString

: 

false


          #

attributes

: 

array:14

 [
            "

id

" => 

182


            "

name

" => "

Barrow

"
            "

league_id

" => 

8


            "

color

" => 

null


            "

alt_color

" => 

null


            "

highlight_color

" => "

#000000

"
            "

text_color

" => "

#ffffff

"
            "

logo

" => 

null


            "

home_kit

" => 

null


            "

away_kit

" => 

null


            "

apif_id

" => 

1819


            "

apif_logo

" => "

https://media.api-sports.io/football/teams/1819.png

"
            "

short_name

" => "

Barrow

"
            "

api_token

" => "

7tYRlSZEtEfSqnyk68dYEi1PjWw51DtJswLIm3CUcrfzKzwfVzfwwI4rRspo

"
          ]
          #

original

: 

array:14

 [
            "

id

" => 

182


            "

name

" => "

Barrow

"
            "

league_id

" => 

8


            "

color

" => 

null


            "

alt_color

" => 

null


             …9
          ]
          #

changes

: []
          #

casts

: 

array:5

 [ …5]
          #

classCastCache

: []
          #

attributeCastCache

: []
          #

dates

: []
          #

dateFormat

: 

null


          #

appends

: 

array:7

 [ …7]
          #

dispatchesEvents

: []
          #

observables

: []
          #

relations

: 

array:1

 [ …1]
          #

touches

: []
          +

timestamps

: 

true


          #

hidden

: 

array:2

 [ …2]
          #

visible

: []
          #

fillable

: []
          #

guarded

: []
        }
      ]
      #

touches

: []
      +

timestamps

: 

true


      #

hidden

: []
      #

visible

: []
      #

fillable

: []
      #

guarded

: 

array:1

 [
        

0

 => "

*

"
      ]
    }
    

5

 => 

App\Models

\

LeagueTable {#1997
      #

connection

: "

mysql

"
      #

table

: "

league_tables

"
      #

primaryKey

: "

id

"
      #

keyType

: "

int

"
      +

incrementing

: 

true


      #

with

: []
      #

withCount

: []
      +

preventsLazyLoading

: 

false


      #

perPage

: 

15


      +

exists

: 

true


      +

wasRecentlyCreated

: 

false


      #

escapeWhenCastingToString

: 

false


      #

attributes

: 

array:16

 [
        "

id

" => 

86


        "

league_id

" => 

8


        "

team_id

" => 

90


        "

team_name

" => "

Crewe Alexandra

"
        "

form

" => "

WWLW

"
        "

position

" => 

6


        "

played

" => 

4


        "

won

" => 

3


        "

drawn

" => 

0


        "

lost

" => 

1


        "

for

" => 

6


        "

against

" => 

4


        "

gd

" => 

2


        "

points

" => 

9


        "

created_at

" => "

2022-08-17 21:40:56

"
        "

updated_at

" => "

2022-08-17 21:40:56

"
      ]
      #

original

: 

array:16

 [
        "

id

" => 

86


        "

league_id

" => 

8


        "

team_id

" => 

90


        "

team_name

" => "

Crewe Alexandra

"
        "

form

" => "

WWLW

"
        "

position

" => 

6


        "

played

" => 

4


        "

won

" => 

3


        "

drawn

" => 

0


        "

lost

" => 

1


        "

for

" => 

6


        "

against

" => 

4


        "

gd

" => 

2


        "

points

" => 

9


        "

created_at

" => "

2022-08-17 21:40:56

"
        "

updated_at

" => "

2022-08-17 21:40:56

"
      ]
      #

changes

: []
      #

casts

: []
      #

classCastCache

: []
      #

attributeCastCache

: []
      #

dates

: []
      #

dateFormat

: 

null


      #

appends

: 

array:1

 [
        

0

 => "

goals_for

"
      ]
      #

dispatchesEvents

: []
      #

observables

: []
      #

relations

: 

array:1

 [
        "

team

" => 

App\Models

\

Team {#2026
          #

connection

: "

mysql

"
          #

table

: "

teams

"
          #

primaryKey

: "

id

"
          #

keyType

: "

int

"
          +

incrementing

: 

true


          #

with

: 

array:1

 [ …1]
          #

withCount

: []
          +

preventsLazyLoading

: 

false


          #

perPage

: 

15


          +

exists

: 

true


          +

wasRecentlyCreated

: 

false


          #

escapeWhenCastingToString

: 

false


          #

attributes

: 

array:14

 [ …14]
          #

original

: 

array:14

 [ …14]
          #

changes

: []
          #

casts

: 

array:5

 [ …5]
          #

classCastCache

: []
          #

attributeCastCache

: []
          #

dates

: []
          #

dateFormat

: 

null


          #

appends

: 

array:7

 [ …7]
          #

dispatchesEvents

: []
          #

observables

: []
          #

relations

: 

array:1

 [ …1]
          #

touches

: []
          +

timestamps

: 

true


          #

hidden

: 

array:2

 [ …2]
          #

visible

: []
          #

fillable

: []
          #

guarded

: []
        }
      ]
      #

touches

: []
      +

timestamps

: 

true


      #

hidden

: []
      #

visible

: []
      #

fillable

: []
      #

guarded

: 

array:1

 [
        

0

 => "

*

"
      ]
    }
    

6

 => 

App\Models

\

LeagueTable {#1998
      #

connection

: "

mysql

"
      #

table

: "

league_tables

"
      #

primaryKey

: "

id

"
      #

keyType

: "

int

"
      +

incrementing

: 

true


      #

with

: []
      #

withCount

: []
      +

preventsLazyLoading

: 

false


      #

perPage

: 

15


      +

exists

: 

true


      +

wasRecentlyCreated

: 

false


      #

escapeWhenCastingToString

: 

false


      #

attributes

: 

array:16

 [
        "

id

" => 

87


        "

league_id

" => 

8


        "

team_id

" => 

123


        "

team_name

" => "

Doncaster Rovers

"
        "

form

" => "

DWDW

"
        "

position

" => 

7


        "

played

" => 

4


        "

won

" => 

2


        "

drawn

" => 

2


        "

lost

" => 

0


        "

for

" => 

6


        "

against

" => 

4


        "

gd

" => 

2


        "

points

" => 

8


        "

created_at

" => "

2022-08-17 21:40:56

"
        "

updated_at

" => "

2022-08-17 21:40:56

"
      ]
      #

original

: 

array:16

 [
        "

id

" => 

87


        "

league_id

" => 

8


        "

team_id

" => 

123


        "

team_name

" => "

Doncaster Rovers

"
        "

form

" => "

DWDW

"
        "

position

" => 

7


        "

played

" => 

4


        "

won

" => 

2


        "

drawn

" => 

2


        "

lost

" => 

0


        "

for

" => 

6


        "

against

" => 

4


        "

gd

" => 

2


        "

points

" => 

8


        "

created_at

" => "

2022-08-17 21:40:56

"
        "

updated_at

" => "

2022-08-17 21:40:56

"
      ]
      #

changes

: []
      #

casts

: []
      #

classCastCache

: []
      #

attributeCastCache

: []
      #

dates

: []
      #

dateFormat

: 

null


      #

appends

: 

array:1

 [
        

0

 => "

goals_for

"
      ]
      #

dispatchesEvents

: []
      #

observables

: []
      #

relations

: 

array:1

 [
        "

team

" => 

App\Models

\

Team {#2037
          #

connection

: "

mysql

"
          #

table

: "

teams

"
          #

primaryKey

: "

id

"
          #

keyType

: "

int

"
          +

incrementing

: 

true


          #

with

: 

array:1

 [ …1]
          #

withCount

: []
          +

preventsLazyLoading

: 

false


          #

perPage

: 

15


          +

exists

: 

true


          +

wasRecentlyCreated

: 

false


          #

escapeWhenCastingToString

: 

false


          #

attributes

: 

array:14

 [ …14]
          #

original

: 

array:14

 [ …14]
          #

changes

: []
          #

casts

: 

array:5

 [ …5]
          #

classCastCache

: []
          #

attributeCastCache

: []
          #

dates

: []
          #

dateFormat

: 

null


          #

appends

: 

array:7

 [ …7]
          #

dispatchesEvents

: []
          #

observables

: []
          #

relations

: 

array:1

 [ …1]
          #

touches

: []
          +

timestamps

: 

true


          #

hidden

: 

array:2

 [ …2]
          #

visible

: []
          #

fillable

: []
          #

guarded

: []
        }
      ]
      #

touches

: []
      +

timestamps

: 

true


      #

hidden

: []
      #

visible

: []
      #

fillable

: []
      #

guarded

: 

array:1

 [
        

0

 => "

*

"
      ]
    }
    

7

 => 

App\Models

\

LeagueTable {#1999
      #

connection

: "

mysql

"
      #

table

: "

league_tables

"
      #

primaryKey

: "

id

"
      #

keyType

: "

int

"
      +

incrementing

: 

true


      #

with

: []
      #

withCount

: []
      +

preventsLazyLoading

: 

false


      #

perPage

: 

15


      +

exists

: 

true


      +

wasRecentlyCreated

: 

false


      #

escapeWhenCastingToString

: 

false


      #

attributes

: 

array:16

 [
        "

id

" => 

88


        "

league_id

" => 

8


        "

team_id

" => 

124


        "

team_name

" => "

Walsall

"
        "

form

" => "

WWDL

"
        "

position

" => 

8


        "

played

" => 

4


        "

won

" => 

2


        "

drawn

" => 

1


        "

lost

" => 

1


        "

for

" => 

7


        "

against

" => 

3


        "

gd

" => 

4


        "

points

" => 

7


        "

created_at

" => "

2022-08-17 21:40:56

"
        "

updated_at

" => "

2022-08-17 21:40:56

"
      ]
      #

original

: 

array:16

 [
        "

id

" => 

88


        "

league_id

" => 

8


        "

team_id

" => 

124


        "

team_name

" => "

Walsall

"
        "

form

" => "

WWDL

"
        "

position

" => 

8


        "

played

" => 

4


        "

won

" => 

2


        "

drawn

" => 

1


        "

lost

" => 

1


        "

for

" => 

7


        "

against

" => 

3


        "

gd

" => 

4


        "

points

" => 

7


        "

created_at

" => "

2022-08-17 21:40:56

"
        "

updated_at

" => "

2022-08-17 21:40:56

"
      ]
      #

changes

: []
      #

casts

: []
      #

classCastCache

: []
      #

attributeCastCache

: []
      #

dates

: []
      #

dateFormat

: 

null


      #

appends

: 

array:1

 [
        

0

 => "

goals_for

"
      ]
      #

dispatchesEvents

: []
      #

observables

: []
      #

relations

: 

array:1

 [
        "

team

" => 

App\Models

\

Team {#2038
          #

connection

: "

mysql

"
          #

table

: "

teams

"
          #

primaryKey

: "

id

"
          #

keyType

: "

int

"
          +

incrementing

: 

true


          #

with

: 

array:1

 [ …1]
          #

withCount

: []
          +

preventsLazyLoading

: 

false


          #

perPage

: 

15


          +

exists

: 

true


          +

wasRecentlyCreated

: 

false


          #

escapeWhenCastingToString

: 

false


          #

attributes

: 

array:14

 [ …14]
          #

original

: 

array:14

 [ …14]
          #

changes

: []
          #

casts

: 

array:5

 [ …5]
          #

classCastCache

: []
          #

attributeCastCache

: []
          #

dates

: []
          #

dateFormat

: 

null


          #

appends

: 

array:7

 [ …7]
          #

dispatchesEvents

: []
          #

observables

: []
          #

relations

: 

array:1

 [ …1]
          #

touches

: []
          +

timestamps

: 

true


          #

hidden

: 

array:2

 [ …2]
          #

visible

: []
          #

fillable

: []
          #

guarded

: []
        }
      ]
      #

touches

: []
      +

timestamps

: 

true


      #

hidden

: []
      #

visible

: []
      #

fillable

: []
      #

guarded

: 

array:1

 [
        

0

 => "

*

"
      ]
    }
    

8

 => 

App\Models

\

LeagueTable {#2000
      #

connection

: "

mysql

"
      #

table

: "

league_tables

"
      #

primaryKey

: "

id

"
      #

keyType

: "

int

"
      +

incrementing

: 

true


      #

with

: []
      #

withCount

: []
      +

preventsLazyLoading

: 

false


      #

perPage

: 

15


      +

exists

: 

true


      +

wasRecentlyCreated

: 

false


      #

escapeWhenCastingToString

: 

false


      #

attributes

: 

array:16

 [
        "

id

" => 

89


        "

league_id

" => 

8


        "

team_id

" => 

180


        "

team_name

" => "

Harrogate Town

"
        "

form

" => "

WLDW

"
        "

position

" => 

9


        "

played

" => 

4


        "

won

" => 

2


        "

drawn

" => 

1


        "

lost

" => 

1


        "

for

" => 

5


        "

against

" => 

3


        "

gd

" => 

2


        "

points

" => 

7


        "

created_at

" => "

2022-08-17 21:40:56

"
        "

updated_at

" => "

2022-08-17 21:40:56

"
      ]
      #

original

: 

array:16

 [
        "

id

" => 

89


        "

league_id

" => 

8


        "

team_id

" => 

180


        "

team_name

" => "

Harrogate Town

"
        "

form

" => "

WLDW

"
        "

position

" => 

9


        "

played

" => 

4


        "

won

" => 

2


        "

drawn

" => 

1


        "

lost

" => 

1


        "

for

" => 

5


        "

against

" => 

3


        "

gd

" => 

2


        "

points

" => 

7


        "

created_at

" => "

2022-08-17 21:40:56

"
        "

updated_at

" => "

2022-08-17 21:40:56

"
      ]
      #

changes

: []
      #

casts

: []
      #

classCastCache

: []
      #

attributeCastCache

: []
      #

dates

: []
      #

dateFormat

: 

null


      #

appends

: 

array:1

 [
        

0

 => "

goals_for

"
      ]
      #

dispatchesEvents

: []
      #

observables

: []
      #

relations

: 

array:1

 [
        "

team

" => 

App\Models

\

Team {#2041
          #

connection

: "

mysql

"
          #

table

: "

teams

"
          #

primaryKey

: "

id

"
          #

keyType

: "

int

"
          +

incrementing

: 

true


          #

with

: 

array:1

 [ …1]
          #

withCount

: []
          +

preventsLazyLoading

: 

false


          #

perPage

: 

15


          +

exists

: 

true


          +

wasRecentlyCreated

: 

false


          #

escapeWhenCastingToString

: 

false


          #

attributes

: 

array:14

 [ …14]
          #

original

: 

array:14

 [ …14]
          #

changes

: []
          #

casts

: 

array:5

 [ …5]
          #

classCastCache

: []
          #

attributeCastCache

: []
          #

dates

: []
          #

dateFormat

: 

null


          #

appends

: 

array:7

 [ …7]
          #

dispatchesEvents

: []
          #

observables

: []
          #

relations

: 

array:1

 [ …1]
          #

touches

: []
          +

timestamps

: 

true


          #

hidden

: 

array:2

 [ …2]
          #

visible

: []
          #

fillable

: []
          #

guarded

: []
        }
      ]
      #

touches

: []
      +

timestamps

: 

true


      #

hidden

: []
      #

visible

: []
      #

fillable

: []
      #

guarded

: 

array:1

 [
        

0

 => "

*

"
      ]
    }
    

9

 => 

App\Models

\

LeagueTable {#2001
      #

connection

: "

mysql

"
      #

table

: "

league_tables

"
      #

primaryKey

: "

id

"
      #

keyType

: "

int

"
      +

incrementing

: 

true


      #

with

: []
      #

withCount

: []
      +

preventsLazyLoading

: 

false


      #

perPage

: 

15


      +

exists

: 

true


      +

wasRecentlyCreated

: 

false


      #

escapeWhenCastingToString

: 

false


      #

attributes

: 

array:16

 [
        "

id

" => 

90


        "

league_id

" => 

8


        "

team_id

" => 

89


        "

team_name

" => "

Mansfield Town

"
        "

form

" => "

LWLW

"
        "

position

" => 

10


        "

played

" => 

4


        "

won

" => 

2


        "

drawn

" => 

0


        "

lost

" => 

2


        "

for

" => 

6


        "

against

" => 

5


        "

gd

" => 

1


        "

points

" => 

6


        "

created_at

" => "

2022-08-17 21:40:56

"
        "

updated_at

" => "

2022-08-17 21:40:56

"
      ]
      #

original

: 

array:16

 [
        "

id

" => 

90


        "

league_id

" => 

8


        "

team_id

" => 

89


        "

team_name

" => "

Mansfield Town

"
        "

form

" => "

LWLW

"
        "

position

" => 

10


        "

played

" => 

4


        "

won

" => 

2


        "

drawn

" => 

0


        "

lost

" => 

2


        "

for

" => 

6


        "

against

" => 

5


        "

gd

" => 

1


        "

points

" => 

6


        "

created_at

" => "

2022-08-17 21:40:56

"
        "

updated_at

" => "

2022-08-17 21:40:56

"
      ]
      #

changes

: []
      #

casts

: []
      #

classCastCache

: []
      #

attributeCastCache

: []
      #

dates

: []
      #

dateFormat

: 

null


      #

appends

: 

array:1

 [
        

0

 => "

goals_for

"
      ]
      #

dispatchesEvents

: []
      #

observables

: []
      #

relations

: 

array:1

 [
        "

team

" => 

App\Models

\

Team {#2025
          #

connection

: "

mysql

"
          #

table

: "

teams

"
          #

primaryKey

: "

id

"
          #

keyType

: "

int

"
          +

incrementing

: 

true


          #

with

: 

array:1

 [ …1]
          #

withCount

: []
          +

preventsLazyLoading

: 

false


          #

perPage

: 

15


          +

exists

: 

true


          +

wasRecentlyCreated

: 

false


          #

escapeWhenCastingToString

: 

false


          #

attributes

: 

array:14

 [ …14]
          #

original

: 

array:14

 [ …14]
          #

changes

: []
          #

casts

: 

array:5

 [ …5]
          #

classCastCache

: []
          #

attributeCastCache

: []
          #

dates

: []
          #

dateFormat

: 

null


          #

appends

: 

array:7

 [ …7]
          #

dispatchesEvents

: []
          #

observables

: []
          #

relations

: 

array:1

 [ …1]
          #

touches

: []
          +

timestamps

: 

true


          #

hidden

: 

array:2

 [ …2]
          #

visible

: []
          #

fillable

: []
          #

guarded

: []
        }
      ]
      #

touches

: []
      +

timestamps

: 

true


      #

hidden

: []
      #

visible

: []
      #

fillable

: []
      #

guarded

: 

array:1

 [
        

0

 => "

*

"
      ]
    }
    

10

 => 

App\Models

\

LeagueTable {#2002
      #

connection

: "

mysql

"
      #

table

: "

league_tables

"
      #

primaryKey

: "

id

"
      #

keyType

: "

int

"
      +

incrementing

: 

true


      #

with

: []
      #

withCount

: []
      +

preventsLazyLoading

: 

false


      #

perPage

: 

15


      +

exists

: 

true


      +

wasRecentlyCreated

: 

false


      #

escapeWhenCastingToString

: 

false


      #

attributes

: 

array:16

 [
        "

id

" => 

91


        "

league_id

" => 

8


        "

team_id

" => 

101


        "

team_name

" => "

Carlisle United

"
        "

form

" => "

WDD

"
        "

position

" => 

11


        "

played

" => 

3


        "

won

" => 

1


        "

drawn

" => 

2


        "

lost

" => 

0


        "

for

" => 

3


        "

against

" => 

2


        "

gd

" => 

1


        "

points

" => 

5


        "

created_at

" => "

2022-08-17 21:40:56

"
        "

updated_at

" => "

2022-08-17 21:40:56

"
      ]
      #

original

: 

array:16

 [
        "

id

" => 

91


        "

league_id

" => 

8


        "

team_id

" => 

101


        "

team_name

" => "

Carlisle United

"
        "

form

" => "

WDD

"
        "

position

" => 

11


        "

played

" => 

3


        "

won

" => 

1


        "

drawn

" => 

2


        "

lost

" => 

0


        "

for

" => 

3


        "

against

" => 

2


        "

gd

" => 

1


        "

points

" => 

5


        "

created_at

" => "

2022-08-17 21:40:56

"
        "

updated_at

" => "

2022-08-17 21:40:56

"
      ]
      #

changes

: []
      #

casts

: []
      #

classCastCache

: []
      #

attributeCastCache

: []
      #

dates

: []
      #

dateFormat

: 

null


      #

appends

: 

array:1

 [
        

0

 => "

goals_for

"
      ]
      #

dispatchesEvents

: []
      #

observables

: []
      #

relations

: 

array:1

 [
        "

team

" => 

App\Models

\

Team {#2031
          #

connection

: "

mysql

"
          #

table

: "

teams

"
          #

primaryKey

: "

id

"
          #

keyType

: "

int

"
          +

incrementing

: 

true


          #

with

: 

array:1

 [ …1]
          #

withCount

: []
          +

preventsLazyLoading

: 

false


          #

perPage

: 

15


          +

exists

: 

true


          +

wasRecentlyCreated

: 

false


          #

escapeWhenCastingToString

: 

false


          #

attributes

: 

array:14

 [ …14]
          #

original

: 

array:14

 [ …14]
          #

changes

: []
          #

casts

: 

array:5

 [ …5]
          #

classCastCache

: []
          #

attributeCastCache

: []
          #

dates

: []
          #

dateFormat

: 

null


          #

appends

: 

array:7

 [ …7]
          #

dispatchesEvents

: []
          #

observables

: []
          #

relations

: 

array:1

 [ …1]
          #

touches

: []
          +

timestamps

: 

true


          #

hidden

: 

array:2

 [ …2]
          #

visible

: []
          #

fillable

: []
          #

guarded

: []
        }
      ]
      #

touches

: []
      +

timestamps

: 

true


      #

hidden

: []
      #

visible

: []
      #

fillable

: []
      #

guarded

: 

array:1

 [
        

0

 => "

*

"
      ]
    }
    

11

 => 

App\Models

\

LeagueTable {#2003
      #

connection

: "

mysql

"
      #

table

: "

league_tables

"
      #

primaryKey

: "

id

"
      #

keyType

: "

int

"
      +

incrementing

: 

true


      #

with

: []
      #

withCount

: []
      +

preventsLazyLoading

: 

false


      #

perPage

: 

15


      +

exists

: 

true


      +

wasRecentlyCreated

: 

false


      #

escapeWhenCastingToString

: 

false


      #

attributes

: 

array:16

 [
        "

id

" => 

92


        "

league_id

" => 

8


        "

team_id

" => 

116


        "

team_name

" => "

AFC Wimbledon

"
        "

form

" => "

WDDL

"
        "

position

" => 

12


        "

played

" => 

4


        "

won

" => 

1


        "

drawn

" => 

2


        "

lost

" => 

1


        "

for

" => 

6


        "

against

" => 

7


        "

gd

" => 

-1


        "

points

" => 

5


        "

created_at

" => "

2022-08-17 21:40:56

"
        "

updated_at

" => "

2022-08-17 21:40:56

"
      ]
      #

original

: 

array:16

 [
        "

id

" => 

92


        "

league_id

" => 

8


        "

team_id

" => 

116


        "

team_name

" => "

AFC Wimbledon

"
        "

form

" => "

WDDL

"
        "

position

" => 

12


        "

played

" => 

4


        "

won

" => 

1


        "

drawn

" => 

2


        "

lost

" => 

1


        "

for

" => 

6


        "

against

" => 

7


        "

gd

" => 

-1


        "

points

" => 

5


        "

created_at

" => "

2022-08-17 21:40:56

"
        "

updated_at

" => "

2022-08-17 21:40:56

"
      ]
      #

changes

: []
      #

casts

: []
      #

classCastCache

: []
      #

attributeCastCache

: []
      #

dates

: []
      #

dateFormat

: 

null


      #

appends

: 

array:1

 [
        

0

 => "

goals_for

"
      ]
      #

dispatchesEvents

: []
      #

observables

: []
      #

relations

: 

array:1

 [
        "

team

" => 

App\Models

\

Team {#2034
          #

connection

: "

mysql

"
          #

table

: "

teams

"
          #

primaryKey

: "

id

"
          #

keyType

: "

int

"
          +

incrementing

: 

true


          #

with

: 

array:1

 [ …1]
          #

withCount

: []
          +

preventsLazyLoading

: 

false


          #

perPage

: 

15


          +

exists

: 

true


          +

wasRecentlyCreated

: 

false


          #

escapeWhenCastingToString

: 

false


          #

attributes

: 

array:14

 [ …14]
          #

original

: 

array:14

 [ …14]
          #

changes

: []
          #

casts

: 

array:5

 [ …5]
          #

classCastCache

: []
          #

attributeCastCache

: []
          #

dates

: []
          #

dateFormat

: 

null


          #

appends

: 

array:7

 [ …7]
          #

dispatchesEvents

: []
          #

observables

: []
          #

relations

: 

array:1

 [ …1]
          #

touches

: []
          +

timestamps

: 

true


          #

hidden

: 

array:2

 [ …2]
          #

visible

: []
          #

fillable

: []
          #

guarded

: []
        }
      ]
      #

touches

: []
      +

timestamps

: 

true


      #

hidden

: []
      #

visible

: []
      #

fillable

: []
      #

guarded

: 

array:1

 [
        

0

 => "

*

"
      ]
    }
    

12

 => 

App\Models

\

LeagueTable {#2004
      #

connection

: "

mysql

"
      #

table

: "

league_tables

"
      #

primaryKey

: "

id

"
      #

keyType

: "

int

"
      +

incrementing

: 

true


      #

with

: []
      #

withCount

: []
      +

preventsLazyLoading

: 

false


      #

perPage

: 

15


      +

exists

: 

true


      +

wasRecentlyCreated

: 

false


      #

escapeWhenCastingToString

: 

false


      #

attributes

: 

array:16

 [
        "

id

" => 

93


        "

league_id

" => 

8


        "

team_id

" => 

35


        "

team_name

" => "

Tranmere Rovers

"
        "

form

" => "

LLWD

"
        "

position

" => 

13


        "

played

" => 

4


        "

won

" => 

1


        "

drawn

" => 

1


        "

lost

" => 

2


        "

for

" => 

4


        "

against

" => 

3


        "

gd

" => 

1


        "

points

" => 

4


        "

created_at

" => "

2022-08-17 21:40:56

"
        "

updated_at

" => "

2022-08-17 21:40:56

"
      ]
      #

original

: 

array:16

 [
        "

id

" => 

93


        "

league_id

" => 

8


        "

team_id

" => 

35


        "

team_name

" => "

Tranmere Rovers

"
        "

form

" => "

LLWD

"
        "

position

" => 

13


        "

played

" => 

4


        "

won

" => 

1


        "

drawn

" => 

1


        "

lost

" => 

2


        "

for

" => 

4


        "

against

" => 

3


        "

gd

" => 

1


        "

points

" => 

4


        "

created_at

" => "

2022-08-17 21:40:56

"
        "

updated_at

" => "

2022-08-17 21:40:56

"
      ]
      #

changes

: []
      #

casts

: []
      #

classCastCache

: []
      #

attributeCastCache

: []
      #

dates

: []
      #

dateFormat

: 

null


      #

appends

: 

array:1

 [
        

0

 => "

goals_for

"
      ]
      #

dispatchesEvents

: []
      #

observables

: []
      #

relations

: 

array:1

 [
        "

team

" => 

App\Models

\

Team {#2023
          #

connection

: "

mysql

"
          #

table

: "

teams

"
          #

primaryKey

: "

id

"
          #

keyType

: "

int

"
          +

incrementing

: 

true


          #

with

: 

array:1

 [ …1]
          #

withCount

: []
          +

preventsLazyLoading

: 

false


          #

perPage

: 

15


          +

exists

: 

true


          +

wasRecentlyCreated

: 

false


          #

escapeWhenCastingToString

: 

false


          #

attributes

: 

array:14

 [ …14]
          #

original

: 

array:14

 [ …14]
          #

changes

: []
          #

casts

: 

array:5

 [ …5]
          #

classCastCache

: []
          #

attributeCastCache

: []
          #

dates

: []
          #

dateFormat

: 

null


          #

appends

: 

array:7

 [ …7]
          #

dispatchesEvents

: []
          #

observables

: []
          #

relations

: 

array:1

 [ …1]
          #

touches

: []
          +

timestamps

: 

true


          #

hidden

: 

array:2

 [ …2]
          #

visible

: []
          #

fillable

: []
          #

guarded

: []
        }
      ]
      #

touches

: []
      +

timestamps

: 

true


      #

hidden

: []
      #

visible

: []
      #

fillable

: []
      #

guarded

: 

array:1

 [
        

0

 => "

*

"
      ]
    }
    

13

 => 

App\Models

\

LeagueTable {#2005
      #

connection

: "

mysql

"
      #

table

: "

league_tables

"
      #

primaryKey

: "

id

"
      #

keyType

: "

int

"
      +

incrementing

: 

true


      #

with

: []
      #

withCount

: []
      +

preventsLazyLoading

: 

false


      #

perPage

: 

15


      +

exists

: 

true


      +

wasRecentlyCreated

: 

false


      #

escapeWhenCastingToString

: 

false


      #

attributes

: 

array:16

 [
        "

id

" => 

94


        "

league_id

" => 

8


        "

team_id

" => 

120


        "

team_name

" => "

Bradford City

"
        "

form

" => "

DLWL

"
        "

position

" => 

14


        "

played

" => 

4


        "

won

" => 

1


        "

drawn

" => 

1


        "

lost

" => 

2


        "

for

" => 

4


        "

against

" => 

4


        "

gd

" => 

0


        "

points

" => 

4


        "

created_at

" => "

2022-08-17 21:40:56

"
        "

updated_at

" => "

2022-08-17 21:40:56

"
      ]
      #

original

: 

array:16

 [
        "

id

" => 

94


        "

league_id

" => 

8


        "

team_id

" => 

120


        "

team_name

" => "

Bradford City

"
        "

form

" => "

DLWL

"
        "

position

" => 

14


        "

played

" => 

4


        "

won

" => 

1


        "

drawn

" => 

1


        "

lost

" => 

2


        "

for

" => 

4


        "

against

" => 

4


        "

gd

" => 

0


        "

points

" => 

4


        "

created_at

" => "

2022-08-17 21:40:56

"
        "

updated_at

" => "

2022-08-17 21:40:56

"
      ]
      #

changes

: []
      #

casts

: []
      #

classCastCache

: []
      #

attributeCastCache

: []
      #

dates

: []
      #

dateFormat

: 

null


      #

appends

: 

array:1

 [
        

0

 => "

goals_for

"
      ]
      #

dispatchesEvents

: []
      #

observables

: []
      #

relations

: 

array:1

 [
        "

team

" => 

App\Models

\

Team {#2036
          #

connection

: "

mysql

"
          #

table

: "

teams

"
          #

primaryKey

: "

id

"
          #

keyType

: "

int

"
          +

incrementing

: 

true


          #

with

: 

array:1

 [ …1]
          #

withCount

: []
          +

preventsLazyLoading

: 

false


          #

perPage

: 

15


          +

exists

: 

true


          +

wasRecentlyCreated

: 

false


          #

escapeWhenCastingToString

: 

false


          #

attributes

: 

array:14

 [ …14]
          #

original

: 

array:14

 [ …14]
          #

changes

: []
          #

casts

: 

array:5

 [ …5]
          #

classCastCache

: []
          #

attributeCastCache

: []
          #

dates

: []
          #

dateFormat

: 

null


          #

appends

: 

array:7

 [ …7]
          #

dispatchesEvents

: []
          #

observables

: []
          #

relations

: 

array:1

 [ …1]
          #

touches

: []
          +

timestamps

: 

true


          #

hidden

: 

array:2

 [ …2]
          #

visible

: []
          #

fillable

: []
          #

guarded

: []
        }
      ]
      #

touches

: []
      +

timestamps

: 

true


      #

hidden

: []
      #

visible

: []
      #

fillable

: []
      #

guarded

: 

array:1

 [
        

0

 => "

*

"
      ]
    }
    

14

 => 

App\Models

\

LeagueTable {#2006
      #

connection

: "

mysql

"
      #

table

: "

league_tables

"
      #

primaryKey

: "

id

"
      #

keyType

: "

int

"
      +

incrementing

: 

true


      #

with

: []
      #

withCount

: []
      +

preventsLazyLoading

: 

false


      #

perPage

: 

15


      +

exists

: 

true


      +

wasRecentlyCreated

: 

false


      #

escapeWhenCastingToString

: 

false


      #

attributes

: 

array:16

 [
        "

id

" => 

95


        "

league_id

" => 

8


        "

team_id

" => 

100


        "

team_name

" => "

Colchester United

"
        "

form

" => "

LDLW

"
        "

position

" => 

15


        "

played

" => 

4


        "

won

" => 

1


        "

drawn

" => 

1


        "

lost

" => 

2


        "

for

" => 

4


        "

against

" => 

5


        "

gd

" => 

-1


        "

points

" => 

4


        "

created_at

" => "

2022-08-17 21:40:56

"
        "

updated_at

" => "

2022-08-17 21:40:56

"
      ]
      #

original

: 

array:16

 [
        "

id

" => 

95


        "

league_id

" => 

8


        "

team_id

" => 

100


        "

team_name

" => "

Colchester United

"
        "

form

" => "

LDLW

"
        "

position

" => 

15


        "

played

" => 

4


        "

won

" => 

1


        "

drawn

" => 

1


        "

lost

" => 

2


        "

for

" => 

4


        "

against

" => 

5


        "

gd

" => 

-1


        "

points

" => 

4


        "

created_at

" => "

2022-08-17 21:40:56

"
        "

updated_at

" => "

2022-08-17 21:40:56

"
      ]
      #

changes

: []
      #

casts

: []
      #

classCastCache

: []
      #

attributeCastCache

: []
      #

dates

: []
      #

dateFormat

: 

null


      #

appends

: 

array:1

 [
        

0

 => "

goals_for

"
      ]
      #

dispatchesEvents

: []
      #

observables

: []
      #

relations

: 

array:1

 [
        "

team

" => 

App\Models

\

Team {#2030
          #

connection

: "

mysql

"
          #

table

: "

teams

"
          #

primaryKey

: "

id

"
          #

keyType

: "

int

"
          +

incrementing

: 

true


          #

with

: 

array:1

 [ …1]
          #

withCount

: []
          +

preventsLazyLoading

: 

false


          #

perPage

: 

15


          +

exists

: 

true


          +

wasRecentlyCreated

: 

false


          #

escapeWhenCastingToString

: 

false


          #

attributes

: 

array:14

 [ …14]
          #

original

: 

array:14

 [ …14]
          #

changes

: []
          #

casts

: 

array:5

 [ …5]
          #

classCastCache

: []
          #

attributeCastCache

: []
          #

dates

: []
          #

dateFormat

: 

null


          #

appends

: 

array:7

 [ …7]
          #

dispatchesEvents

: []
          #

observables

: []
          #

relations

: 

array:1

 [ …1]
          #

touches

: []
          +

timestamps

: 

true


          #

hidden

: 

array:2

 [ …2]
          #

visible

: []
          #

fillable

: []
          #

guarded

: []
        }
      ]
      #

touches

: []
      +

timestamps

: 

true


      #

hidden

: []
      #

visible

: []
      #

fillable

: []
      #

guarded

: 

array:1

 [
        

0

 => "

*

"
      ]
    }
    

15

 => 

App\Models

\

LeagueTable {#2007
      #

connection

: "

mysql

"
      #

table

: "

league_tables

"
      #

primaryKey

: "

id

"
      #

keyType

: "

int

"
      +

incrementing

: 

true


      #

with

: []
      #

withCount

: []
      +

preventsLazyLoading

: 

false


      #

perPage

: 

15


      +

exists

: 

true


      +

wasRecentlyCreated

: 

false


      #

escapeWhenCastingToString

: 

false


      #

attributes

: 

array:16

 [
        "

id

" => 

96


        "

league_id

" => 

8


        "

team_id

" => 

183


        "

team_name

" => "

Sutton United

"
        "

form

" => "

DLWL

"
        "

position

" => 

16


        "

played

" => 

4


        "

won

" => 

1


        "

drawn

" => 

1


        "

lost

" => 

2


        "

for

" => 

3


        "

against

" => 

4


        "

gd

" => 

-1


        "

points

" => 

4


        "

created_at

" => "

2022-08-17 21:40:56

"
        "

updated_at

" => "

2022-08-17 21:40:56

"
      ]
      #

original

: 

array:16

 [
        "

id

" => 

96


        "

league_id

" => 

8


        "

team_id

" => 

183


        "

team_name

" => "

Sutton United

"
        "

form

" => "

DLWL

"
        "

position

" => 

16


        "

played

" => 

4


        "

won

" => 

1


        "

drawn

" => 

1


        "

lost

" => 

2


        "

for

" => 

3


        "

against

" => 

4


        "

gd

" => 

-1


        "

points

" => 

4


        "

created_at

" => "

2022-08-17 21:40:56

"
        "

updated_at

" => "

2022-08-17 21:40:56

"
      ]
      #

changes

: []
      #

casts

: []
      #

classCastCache

: []
      #

attributeCastCache

: []
      #

dates

: []
      #

dateFormat

: 

null


      #

appends

: 

array:1

 [
        

0

 => "

goals_for

"
      ]
      #

dispatchesEvents

: []
      #

observables

: []
      #

relations

: 

array:1

 [
        "

team

" => 

App\Models

\

Team {#2044
          #

connection

: "

mysql

"
          #

table

: "

teams

"
          #

primaryKey

: "

id

"
          #

keyType

: "

int

"
          +

incrementing

: 

true


          #

with

: 

array:1

 [ …1]
          #

withCount

: []
          +

preventsLazyLoading

: 

false


          #

perPage

: 

15


          +

exists

: 

true


          +

wasRecentlyCreated

: 

false


          #

escapeWhenCastingToString

: 

false


          #

attributes

: 

array:14

 [ …14]
          #

original

: 

array:14

 [ …14]
          #

changes

: []
          #

casts

: 

array:5

 [ …5]
          #

classCastCache

: []
          #

attributeCastCache

: []
          #

dates

: []
          #

dateFormat

: 

null


          #

appends

: 

array:7

 [ …7]
          #

dispatchesEvents

: []
          #

observables

: []
          #

relations

: 

array:1

 [ …1]
          #

touches

: []
          +

timestamps

: 

true


          #

hidden

: 

array:2

 [ …2]
          #

visible

: []
          #

fillable

: []
          #

guarded

: []
        }
      ]
      #

touches

: []
      +

timestamps

: 

true


      #

hidden

: []
      #

visible

: []
      #

fillable

: []
      #

guarded

: 

array:1

 [
        

0

 => "

*

"
      ]
    }
    

16

 => 

App\Models

\

LeagueTable {#2008
      #

connection

: "

mysql

"
      #

table

: "

league_tables

"
      #

primaryKey

: "

id

"
      #

keyType

: "

int

"
      +

incrementing

: 

true


      #

with

: []
      #

withCount

: []
      +

preventsLazyLoading

: 

false


      #

perPage

: 

15


      +

exists

: 

true


      +

wasRecentlyCreated

: 

false


      #

escapeWhenCastingToString

: 

false


      #

attributes

: 

array:16

 [
        "

id

" => 

97


        "

league_id

" => 

8


        "

team_id

" => 

96


        "

team_name

" => "

Grimsby Town

"
        "

form

" => "

LDW

"
        "

position

" => 

17


        "

played

" => 

3


        "

won

" => 

1


        "

drawn

" => 

1


        "

lost

" => 

1


        "

for

" => 

2


        "

against

" => 

3


        "

gd

" => 

-1


        "

points

" => 

4


        "

created_at

" => "

2022-08-17 21:40:56

"
        "

updated_at

" => "

2022-08-17 21:40:56

"
      ]
      #

original

: 

array:16

 [
        "

id

" => 

97


        "

league_id

" => 

8


        "

team_id

" => 

96


        "

team_name

" => "

Grimsby Town

"
        "

form

" => "

LDW

"
        "

position

" => 

17


        "

played

" => 

3


        "

won

" => 

1


        "

drawn

" => 

1


        "

lost

" => 

1


        "

for

" => 

2


        "

against

" => 

3


        "

gd

" => 

-1


        "

points

" => 

4


        "

created_at

" => "

2022-08-17 21:40:56

"
        "

updated_at

" => "

2022-08-17 21:40:56

"
      ]
      #

changes

: []
      #

casts

: []
      #

classCastCache

: []
      #

attributeCastCache

: []
      #

dates

: []
      #

dateFormat

: 

null


      #

appends

: 

array:1

 [
        

0

 => "

goals_for

"
      ]
      #

dispatchesEvents

: []
      #

observables

: []
      #

relations

: 

array:1

 [
        "

team

" => 

App\Models

\

Team {#2028
          #

connection

: "

mysql

"
          #

table

: "

teams

"
          #

primaryKey

: "

id

"
          #

keyType

: "

int

"
          +

incrementing

: 

true


          #

with

: 

array:1

 [ …1]
          #

withCount

: []
          +

preventsLazyLoading

: 

false


          #

perPage

: 

15


          +

exists

: 

true


          +

wasRecentlyCreated

: 

false


          #

escapeWhenCastingToString

: 

false


          #

attributes

: 

array:14

 [ …14]
          #

original

: 

array:14

 [ …14]
          #

changes

: []
          #

casts

: 

array:5

 [ …5]
          #

classCastCache

: []
          #

attributeCastCache

: []
          #

dates

: []
          #

dateFormat

: 

null


          #

appends

: 

array:7

 [ …7]
          #

dispatchesEvents

: []
          #

observables

: []
          #

relations

: 

array:1

 [ …1]
          #

touches

: []
          +

timestamps

: 

true


          #

hidden

: 

array:2

 [ …2]
          #

visible

: []
          #

fillable

: []
          #

guarded

: []
        }
      ]
      #

touches

: []
      +

timestamps

: 

true


      #

hidden

: []
      #

visible

: []
      #

fillable

: []
      #

guarded

: 

array:1

 [
        

0

 => "

*

"
      ]
    }
    

17

 => 

App\Models

\

LeagueTable {#2009
      #

connection

: "

mysql

"
      #

table

: "

league_tables

"
      #

primaryKey

: "

id

"
      #

keyType

: "

int

"
      +

incrementing

: 

true


      #

with

: []
      #

withCount

: []
      +

preventsLazyLoading

: 

false


      #

perPage

: 

15


      +

exists

: 

true


      +

wasRecentlyCreated

: 

false


      #

escapeWhenCastingToString

: 

false


      #

attributes

: 

array:16

 [
        "

id

" => 

98


        "

league_id

" => 

8


        "

team_id

" => 

193


        "

team_name

" => "

Stockport County

"
        "

form

" => "

LLWL

"
        "

position

" => 

18


        "

played

" => 

4


        "

won

" => 

1


        "

drawn

" => 

0


        "

lost

" => 

3


        "

for

" => 

5


        "

against

" => 

7


        "

gd

" => 

-2


        "

points

" => 

3


        "

created_at

" => "

2022-08-17 21:40:56

"
        "

updated_at

" => "

2022-08-17 21:40:56

"
      ]
      #

original

: 

array:16

 [
        "

id

" => 

98


        "

league_id

" => 

8


        "

team_id

" => 

193


        "

team_name

" => "

Stockport County

"
        "

form

" => "

LLWL

"
        "

position

" => 

18


        "

played

" => 

4


        "

won

" => 

1


        "

drawn

" => 

0


        "

lost

" => 

3


        "

for

" => 

5


        "

against

" => 

7


        "

gd

" => 

-2


        "

points

" => 

3


        "

created_at

" => "

2022-08-17 21:40:56

"
        "

updated_at

" => "

2022-08-17 21:40:56

"
      ]
      #

changes

: []
      #

casts

: []
      #

classCastCache

: []
      #

attributeCastCache

: []
      #

dates

: []
      #

dateFormat

: 

null


      #

appends

: 

array:1

 [
        

0

 => "

goals_for

"
      ]
      #

dispatchesEvents

: []
      #

observables

: []
      #

relations

: 

array:1

 [
        "

team

" => 

App\Models

\

Team {#2046
          #

connection

: "

mysql

"
          #

table

: "

teams

"
          #

primaryKey

: "

id

"
          #

keyType

: "

int

"
          +

incrementing

: 

true


          #

with

: 

array:1

 [ …1]
          #

withCount

: []
          +

preventsLazyLoading

: 

false


          #

perPage

: 

15


          +

exists

: 

true


          +

wasRecentlyCreated

: 

false


          #

escapeWhenCastingToString

: 

false


          #

attributes

: 

array:14

 [ …14]
          #

original

: 

array:14

 [ …14]
          #

changes

: []
          #

casts

: 

array:5

 [ …5]
          #

classCastCache

: []
          #

attributeCastCache

: []
          #

dates

: []
          #

dateFormat

: 

null


          #

appends

: 

array:7

 [ …7]
          #

dispatchesEvents

: []
          #

observables

: []
          #

relations

: 

array:1

 [ …1]
          #

touches

: []
          +

timestamps

: 

true


          #

hidden

: 

array:2

 [ …2]
          #

visible

: []
          #

fillable

: []
          #

guarded

: []
        }
      ]
      #

touches

: []
      +

timestamps

: 

true


      #

hidden

: []
      #

visible

: []
      #

fillable

: []
      #

guarded

: 

array:1

 [
        

0

 => "

*

"
      ]
    }
    

18

 => 

App\Models

\

LeagueTable {#2010
      #

connection

: "

mysql

"
      #

table

: "

league_tables

"
      #

primaryKey

: "

id

"
      #

keyType

: "

int

"
      +

incrementing

: 

true


      #

with

: []
      #

withCount

: []
      +

preventsLazyLoading

: 

false


      #

perPage

: 

15


      +

exists

: 

true


      +

wasRecentlyCreated

: 

false


      #

escapeWhenCastingToString

: 

false


      #

attributes

: 

array:16

 [
        "

id

" => 

99


        "

league_id

" => 

8


        "

team_id

" => 

105


        "

team_name

" => "

Swindon Town

"
        "

form

" => "

LDDD

"
        "

position

" => 

19


        "

played

" => 

4


        "

won

" => 

0


        "

drawn

" => 

3


        "

lost

" => 

1


        "

for

" => 

2


        "

against

" => 

5


        "

gd

" => 

-3


        "

points

" => 

3


        "

created_at

" => "

2022-08-17 21:40:56

"
        "

updated_at

" => "

2022-08-17 21:40:56

"
      ]
      #

original

: 

array:16

 [
        "

id

" => 

99


        "

league_id

" => 

8


        "

team_id

" => 

105


        "

team_name

" => "

Swindon Town

"
        "

form

" => "

LDDD

"
        "

position

" => 

19


        "

played

" => 

4


        "

won

" => 

0


        "

drawn

" => 

3


        "

lost

" => 

1


        "

for

" => 

2


        "

against

" => 

5


        "

gd

" => 

-3


        "

points

" => 

3


        "

created_at

" => "

2022-08-17 21:40:56

"
        "

updated_at

" => "

2022-08-17 21:40:56

"
      ]
      #

changes

: []
      #

casts

: []
      #

classCastCache

: []
      #

attributeCastCache

: []
      #

dates

: []
      #

dateFormat

: 

null


      #

appends

: 

array:1

 [
        

0

 => "

goals_for

"
      ]
      #

dispatchesEvents

: []
      #

observables

: []
      #

relations

: 

array:1

 [
        "

team

" => 

App\Models

\

Team {#2032
          #

connection

: "

mysql

"
          #

table

: "

teams

"
          #

primaryKey

: "

id

"
          #

keyType

: "

int

"
          +

incrementing

: 

true


          #

with

: 

array:1

 [ …1]
          #

withCount

: []
          +

preventsLazyLoading

: 

false


          #

perPage

: 

15


          +

exists

: 

true


          +

wasRecentlyCreated

: 

false


          #

escapeWhenCastingToString

: 

false


          #

attributes

: 

array:14

 [ …14]
          #

original

: 

array:14

 [ …14]
          #

changes

: []
          #

casts

: 

array:5

 [ …5]
          #

classCastCache

: []
          #

attributeCastCache

: []
          #

dates

: []
          #

dateFormat

: 

null


          #

appends

: 

array:7

 [ …7]
          #

dispatchesEvents

: []
          #

observables

: []
          #

relations

: 

array:1

 [ …1]
          #

touches

: []
          +

timestamps

: 

true


          #

hidden

: 

array:2

 [ …2]
          #

visible

: []
          #

fillable

: []
          #

guarded

: []
        }
      ]
      #

touches

: []
      +

timestamps

: 

true


      #

hidden

: []
      #

visible

: []
      #

fillable

: []
      #

guarded

: 

array:1

 [
        

0

 => "

*

"
      ]
    }
    

19

 => 

App\Models

\

LeagueTable {#2011
      #

connection

: "

mysql

"
      #

table

: "

league_tables

"
      #

primaryKey

: "

id

"
      #

keyType

: "

int

"
      +

incrementing

: 

true


      #

with

: []
      #

withCount

: []
      +

preventsLazyLoading

: 

false


      #

perPage

: 

15


      +

exists

: 

true


      +

wasRecentlyCreated

: 

false


      #

escapeWhenCastingToString

: 

false


      #

attributes

: 

array:16

 [
        "

id

" => 

101


        "

league_id

" => 

8


        "

team_id

" => 

119


        "

team_name

" => "

Gillingham

"
        "

form

" => "

LWLL

"
        "

position

" => 

20


        "

played

" => 

4


        "

won

" => 

1


        "

drawn

" => 

0


        "

lost

" => 

3


        "

for

" => 

1


        "

against

" => 

7


        "

gd

" => 

-6


        "

points

" => 

3


        "

created_at

" => "

2022-08-17 21:40:56

"
        "

updated_at

" => "

2022-08-17 21:40:56

"
      ]
      #

original

: 

array:16

 [
        "

id

" => 

101


        "

league_id

" => 

8


        "

team_id

" => 

119


        "

team_name

" => "

Gillingham

"
        "

form

" => "

LWLL

"
        "

position

" => 

20


        "

played

" => 

4


        "

won

" => 

1


        "

drawn

" => 

0


        "

lost

" => 

3


        "

for

" => 

1


        "

against

" => 

7


        "

gd

" => 

-6


        "

points

" => 

3


        "

created_at

" => "

2022-08-17 21:40:56

"
        "

updated_at

" => "

2022-08-17 21:40:56

"
      ]
      #

changes

: []
      #

casts

: []
      #

classCastCache

: []
      #

attributeCastCache

: []
      #

dates

: []
      #

dateFormat

: 

null


      #

appends

: 

array:1

 [
        

0

 => "

goals_for

"
      ]
      #

dispatchesEvents

: []
      #

observables

: []
      #

relations

: 

array:1

 [
        "

team

" => 

App\Models

\

Team {#2035
          #

connection

: "

mysql

"
          #

table

: "

teams

"
          #

primaryKey

: "

id

"
          #

keyType

: "

int

"
          +

incrementing

: 

true


          #

with

: 

array:1

 [ …1]
          #

withCount

: []
          +

preventsLazyLoading

: 

false


          #

perPage

: 

15


          +

exists

: 

true


          +

wasRecentlyCreated

: 

false


          #

escapeWhenCastingToString

: 

false


          #

attributes

: 

array:14

 [ …14]
          #

original

: 

array:14

 [ …14]
          #

changes

: []
          #

casts

: 

array:5

 [ …5]
          #

classCastCache

: []
          #

attributeCastCache

: []
          #

dates

: []
          #

dateFormat

: 

null


          #

appends

: 

array:7

 [ …7]
          #

dispatchesEvents

: []
          #

observables

: []
          #

relations

: 

array:1

 [ …1]
          #

touches

: []
          +

timestamps

: 

true


          #

hidden

: 

array:2

 [ …2]
          #

visible

: []
          #

fillable

: []
          #

guarded

: []
        }
      ]
      #

touches

: []
      +

timestamps

: 

true


      #

hidden

: []
      #

visible

: []
      #

fillable

: []
      #

guarded

: 

array:1

 [
        

0

 => "

*

"
      ]
    }
    

20

 => 

App\Models

\

LeagueTable {#2012
      #

connection

: "

mysql

"
      #

table

: "

league_tables

"
      #

primaryKey

: "

id

"
      #

keyType

: "

int

"
      +

incrementing

: 

true


      #

with

: []
      #

withCount

: []
      +

preventsLazyLoading

: 

false


      #

perPage

: 

15


      +

exists

: 

true


      +

wasRecentlyCreated

: 

false


      #

escapeWhenCastingToString

: 

false


      #

attributes

: 

array:16

 [
        "

id

" => 

103


        "

league_id

" => 

8


        "

team_id

" => 

181


        "

team_name

" => "

Hartlepool United

"
        "

form

" => "

LDLD

"
        "

position

" => 

21


        "

played

" => 

4


        "

won

" => 

0


        "

drawn

" => 

2


        "

lost

" => 

2


        "

for

" => 

1


        "

against

" => 

6


        "

gd

" => 

-5


        "

points

" => 

2


        "

created_at

" => "

2022-08-17 21:40:56

"
        "

updated_at

" => "

2022-08-17 21:40:56

"
      ]
      #

original

: 

array:16

 [
        "

id

" => 

103


        "

league_id

" => 

8


        "

team_id

" => 

181


        "

team_name

" => "

Hartlepool United

"
        "

form

" => "

LDLD

"
        "

position

" => 

21


        "

played

" => 

4


        "

won

" => 

0


        "

drawn

" => 

2


        "

lost

" => 

2


        "

for

" => 

1


        "

against

" => 

6


        "

gd

" => 

-5


        "

points

" => 

2


        "

created_at

" => "

2022-08-17 21:40:56

"
        "

updated_at

" => "

2022-08-17 21:40:56

"
      ]
      #

changes

: []
      #

casts

: []
      #

classCastCache

: []
      #

attributeCastCache

: []
      #

dates

: []
      #

dateFormat

: 

null


      #

appends

: 

array:1

 [
        

0

 => "

goals_for

"
      ]
      #

dispatchesEvents

: []
      #

observables

: []
      #

relations

: 

array:1

 [
        "

team

" => 

App\Models

\

Team {#2042
          #

connection

: "

mysql

"
          #

table

: "

teams

"
          #

primaryKey

: "

id

"
          #

keyType

: "

int

"
          +

incrementing

: 

true


          #

with

: 

array:1

 [ …1]
          #

withCount

: []
          +

preventsLazyLoading

: 

false


          #

perPage

: 

15


          +

exists

: 

true


          +

wasRecentlyCreated

: 

false


          #

escapeWhenCastingToString

: 

false


          #

attributes

: 

array:14

 [ …14]
          #

original

: 

array:14

 [ …14]
          #

changes

: []
          #

casts

: 

array:5

 [ …5]
          #

classCastCache

: []
          #

attributeCastCache

: []
          #

dates

: []
          #

dateFormat

: 

null


          #

appends

: 

array:7

 [ …7]
          #

dispatchesEvents

: []
          #

observables

: []
          #

relations

: 

array:1

 [ …1]
          #

touches

: []
          +

timestamps

: 

true


          #

hidden

: 

array:2

 [ …2]
          #

visible

: []
          #

fillable

: []
          #

guarded

: []
        }
      ]
      #

touches

: []
      +

timestamps

: 

true


      #

hidden

: []
      #

visible

: []
      #

fillable

: []
      #

guarded

: 

array:1

 [
        

0

 => "

*

"
      ]
    }
    

21

 => 

App\Models

\

LeagueTable {#2013
      #

connection

: "

mysql

"
      #

table

: "

league_tables

"
      #

primaryKey

: "

id

"
      #

keyType

: "

int

"
      +

incrementing

: 

true


      #

with

: []
      #

withCount

: []
      +

preventsLazyLoading

: 

false


      #

perPage

: 

15


      +

exists

: 

true


      +

wasRecentlyCreated

: 

false


      #

escapeWhenCastingToString

: 

false


      #

attributes

: 

array:16

 [
        "

id

" => 

105


        "

league_id

" => 

8


        "

team_id

" => 

88


        "

team_name

" => "

Crawley Town

"
        "

form

" => "

LLDL

"
        "

position

" => 

22


        "

played

" => 

4


        "

won

" => 

0


        "

drawn

" => 

1


        "

lost

" => 

3


        "

for

" => 

2


        "

against

" => 

5


        "

gd

" => 

-3


        "

points

" => 

1


        "

created_at

" => "

2022-08-17 21:40:56

"
        "

updated_at

" => "

2022-08-17 21:40:56

"
      ]
      #

original

: 

array:16

 [
        "

id

" => 

105


        "

league_id

" => 

8


        "

team_id

" => 

88


        "

team_name

" => "

Crawley Town

"
        "

form

" => "

LLDL

"
        "

position

" => 

22


        "

played

" => 

4


        "

won

" => 

0


        "

drawn

" => 

1


        "

lost

" => 

3


        "

for

" => 

2


        "

against

" => 

5


        "

gd

" => 

-3


        "

points

" => 

1


        "

created_at

" => "

2022-08-17 21:40:56

"
        "

updated_at

" => "

2022-08-17 21:40:56

"
      ]
      #

changes

: []
      #

casts

: []
      #

classCastCache

: []
      #

attributeCastCache

: []
      #

dates

: []
      #

dateFormat

: 

null


      #

appends

: 

array:1

 [
        

0

 => "

goals_for

"
      ]
      #

dispatchesEvents

: []
      #

observables

: []
      #

relations

: 

array:1

 [
        "

team

" => 

App\Models

\

Team {#2024
          #

connection

: "

mysql

"
          #

table

: "

teams

"
          #

primaryKey

: "

id

"
          #

keyType

: "

int

"
          +

incrementing

: 

true


          #

with

: 

array:1

 [ …1]
          #

withCount

: []
          +

preventsLazyLoading

: 

false


          #

perPage

: 

15


          +

exists

: 

true


          +

wasRecentlyCreated

: 

false


          #

escapeWhenCastingToString

: 

false


          #

attributes

: 

array:14

 [ …14]
          #

original

: 

array:14

 [ …14]
          #

changes

: []
          #

casts

: 

array:5

 [ …5]
          #

classCastCache

: []
          #

attributeCastCache

: []
          #

dates

: []
          #

dateFormat

: 

null


          #

appends

: 

array:7

 [ …7]
          #

dispatchesEvents

: []
          #

observables

: []
          #

relations

: 

array:1

 [ …1]
          #

touches

: []
          +

timestamps

: 

true


          #

hidden

: 

array:2

 [ …2]
          #

visible

: []
          #

fillable

: []
          #

guarded

: []
        }
      ]
      #

touches

: []
      +

timestamps

: 

true


      #

hidden

: []
      #

visible

: []
      #

fillable

: []
      #

guarded

: 

array:1

 [
        

0

 => "

*

"
      ]
    }
    

22

 => 

App\Models

\

LeagueTable {#2014
      #

connection

: "

mysql

"
      #

table

: "

league_tables

"
      #

primaryKey

: "

id

"
      #

keyType

: "

int

"
      +

incrementing

: 

true


      #

with

: []
      #

withCount

: []
      +

preventsLazyLoading

: 

false


      #

perPage

: 

15


      +

exists

: 

true


      +

wasRecentlyCreated

: 

false


      #

escapeWhenCastingToString

: 

false


      #

attributes

: 

array:16

 [
        "

id

" => 

107


        "

league_id

" => 

8


        "

team_id

" => 

99


        "

team_name

" => "

Newport County

"
        "

form

" => "

DLLL

"
        "

position

" => 

23


        "

played

" => 

4


        "

won

" => 

0


        "

drawn

" => 

1


        "

lost

" => 

3


        "

for

" => 

3


        "

against

" => 

7


        "

gd

" => 

-4


        "

points

" => 

1


        "

created_at

" => "

2022-08-17 21:40:56

"
        "

updated_at

" => "

2022-08-17 21:40:56

"
      ]
      #

original

: 

array:16

 [
        "

id

" => 

107


        "

league_id

" => 

8


        "

team_id

" => 

99


        "

team_name

" => "

Newport County

"
        "

form

" => "

DLLL

"
        "

position

" => 

23


        "

played

" => 

4


        "

won

" => 

0


        "

drawn

" => 

1


        "

lost

" => 

3


        "

for

" => 

3


        "

against

" => 

7


        "

gd

" => 

-4


        "

points

" => 

1


        "

created_at

" => "

2022-08-17 21:40:56

"
        "

updated_at

" => "

2022-08-17 21:40:56

"
      ]
      #

changes

: []
      #

casts

: []
      #

classCastCache

: []
      #

attributeCastCache

: []
      #

dates

: []
      #

dateFormat

: 

null


      #

appends

: 

array:1

 [
        

0

 => "

goals_for

"
      ]
      #

dispatchesEvents

: []
      #

observables

: []
      #

relations

: 

array:1

 [
        "

team

" => 

App\Models

\

Team {#2029
          #

connection

: "

mysql

"
          #

table

: "

teams

"
          #

primaryKey

: "

id

"
          #

keyType

: "

int

"
          +

incrementing

: 

true


          #

with

: 

array:1

 [ …1]
          #

withCount

: []
          +

preventsLazyLoading

: 

false


          #

perPage

: 

15


          +

exists

: 

true


          +

wasRecentlyCreated

: 

false


          #

escapeWhenCastingToString

: 

false


          #

attributes

: 

array:14

 [ …14]
          #

original

: 

array:14

 [ …14]
          #

changes

: []
          #

casts

: 

array:5

 [ …5]
          #

classCastCache

: []
          #

attributeCastCache

: []
          #

dates

: []
          #

dateFormat

: 

null


          #

appends

: 

array:7

 [ …7]
          #

dispatchesEvents

: []
          #

observables

: []
          #

relations

: 

array:1

 [ …1]
          #

touches

: []
          +

timestamps

: 

true


          #

hidden

: 

array:2

 [ …2]
          #

visible

: []
          #

fillable

: []
          #

guarded

: []
        }
      ]
      #

touches

: []
      +

timestamps

: 

true


      #

hidden

: []
      #

visible

: []
      #

fillable

: []
      #

guarded

: 

array:1

 [
        

0

 => "

*

"
      ]
    }
    

23

 => 

App\Models

\

LeagueTable {#2015
      #

connection

: "

mysql

"
      #

table

: "

league_tables

"
      #

primaryKey

: "

id

"
      #

keyType

: "

int

"
      +

incrementing

: 

true


      #

with

: []
      #

withCount

: []
      +

preventsLazyLoading

: 

false


      #

perPage

: 

15


      +

exists

: 

true


      +

wasRecentlyCreated

: 

false


      #

escapeWhenCastingToString

: 

false


      #

attributes

: 

array:16

 [
        "

id

" => 

109


        "

league_id

" => 

8


        "

team_id

" => 

111


        "

team_name

" => "

Rochdale

"
        "

form

" => "

LLLL

"
        "

position

" => 

24


        "

played

" => 

4


        "

won

" => 

0


        "

drawn

" => 

0


        "

lost

" => 

4


        "

for

" => 

1


        "

against

" => 

5


        "

gd

" => 

-4


        "

points

" => 

0


        "

created_at

" => "

2022-08-17 21:40:56

"
        "

updated_at

" => "

2022-08-17 21:40:56

"
      ]
      #

original

: 

array:16

 [
        "

id

" => 

109


        "

league_id

" => 

8


        "

team_id

" => 

111


        "

team_name

" => "

Rochdale

"
        "

form

" => "

LLLL

"
        "

position

" => 

24


        "

played

" => 

4


        "

won

" => 

0


        "

drawn

" => 

0


        "

lost

" => 

4


        "

for

" => 

1


        "

against

" => 

5


        "

gd

" => 

-4


        "

points

" => 

0


        "

created_at

" => "

2022-08-17 21:40:56

"
        "

updated_at

" => "

2022-08-17 21:40:56

"
      ]
      #

changes

: []
      #

casts

: []
      #

classCastCache

: []
      #

attributeCastCache

: []
      #

dates

: []
      #

dateFormat

: 

null


      #

appends

: 

array:1

 [
        

0

 => "

goals_for

"
      ]
      #

dispatchesEvents

: []
      #

observables

: []
      #

relations

: 

array:1

 [
        "

team

" => 

App\Models

\

Team {#2033
          #

connection

: "

mysql

"
          #

table

: "

teams

"
          #

primaryKey

: "

id

"
          #

keyType

: "

int

"
          +

incrementing

: 

true


          #

with

: 

array:1

 [ …1]
          #

withCount

: []
          +

preventsLazyLoading

: 

false


          #

perPage

: 

15


          +

exists

: 

true


          +

wasRecentlyCreated

: 

false


          #

escapeWhenCastingToString

: 

false


          #

attributes

: 

array:14

 [ …14]
          #

original

: 

array:14

 [ …14]
          #

changes

: []
          #

casts

: 

array:5

 [ …5]
          #

classCastCache

: []
          #

attributeCastCache

: []
          #

dates

: []
          #

dateFormat

: 

null


          #

appends

: 

array:7

 [ …7]
          #

dispatchesEvents

: []
          #

observables

: []
          #

relations

: 

array:1

 [ …1]
          #

touches

: []
          +

timestamps

: 

true


          #

hidden

: 

array:2

 [ …2]
          #

visible

: []
          #

fillable

: []
          #

guarded

: []
        }
      ]
      #

touches

: []
      +

timestamps

: 

true


      #

hidden

: []
      #

visible

: []
      #

fillable

: []
      #

guarded

: 

array:1

 [
        

0

 => "

*

"
      ]
    }
  ]
  #

escapeWhenCastingToString

: 

false


}