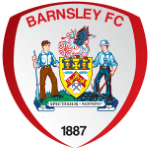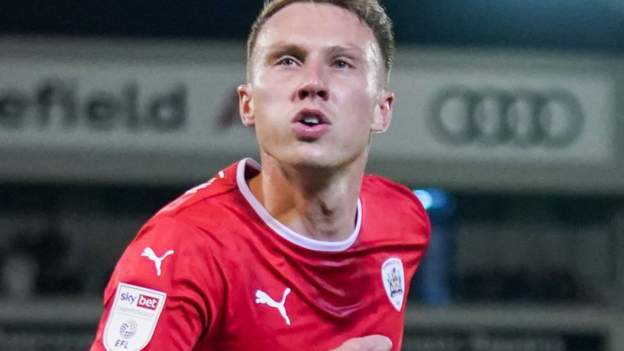 Luton sign Barnsley striker Woodrow
---
Last updated on .From the section Luton
Cauley Woodrow played for England at age-group level up to the Under-21s
Luton Town have signed Barnsley striker Cauley Woodrow for an undisclosed fee.
The 27-year-old began his career as a junior at Kenilworth Road, playing for them in the FA Trophy when he was only 16, before moving to Fulham in 2011.
Woodrow spent four seasons with the Tykes - the first of them on loan - and scored 53 goals in 157 games but missed part of last term with a knee injury.
He was in the side that won promotion from League One in 2019 and reached the Championship play-offs in 2021.
"Cauley is a real standout signing for us - a marquee signing," said Luton manager Nathan Jones.
"He's a player with real good technical ability, he gives us good options in the attacking area and he's a type of player that we haven't got, a really clever player."
Woodrow made six Premier League appearances for Fulham at the end of the 2013-14 season and scored in a 2-2 draw with Crystal Palace.
He had loan spells at Southend, Burton Albion and Bristol City before joining Barnsley in the summer of 2018.
Details about the length of his contract with Luton have not been disclosed.
"I'm a bit emotional to be back at Luton Town. This is where I started my journey as a professional footballer and (chief executive) Gary Sweet always said that I'd come back and play one day," Woodrow said.
"To be playing my football back where it all started, it is great for me."
Find all the latest football transfers on our dedicated page.
Continue Reading
To continue reading please choose to download our free app, or visit the original website.
League Table
^

 

Illuminate\Database\Eloquent\Collection

 {#1986
  #

items

: 

array:24

 [
    

0

 => 

App\Models

\

LeagueTable {#1993
      #

connection

: "

mysql

"
      #

table

: "

league_tables

"
      #

primaryKey

: "

id

"
      #

keyType

: "

int

"
      +

incrementing

: 

true


      #

with

: []
      #

withCount

: []
      +

preventsLazyLoading

: 

false


      #

perPage

: 

15


      +

exists

: 

true


      +

wasRecentlyCreated

: 

false


      #

escapeWhenCastingToString

: 

false


      #

attributes

: 

array:16

 [
        "

id

" => 

91


        "

league_id

" => 

9


        "

team_id

" => 

33


        "

team_name

" => "

Ipswich Town

"
        "

form

" => "

DWWW

"
        "

position

" => 

1


        "

played

" => 

4


        "

won

" => 

3


        "

drawn

" => 

1


        "

lost

" => 

0


        "

for

" => 

7


        "

against

" => 

2


        "

gd

" => 

5


        "

points

" => 

10


        "

created_at

" => "

2022-08-17 21:00:57

"
        "

updated_at

" => "

2022-08-17 21:00:57

"
      ]
      #

original

: 

array:16

 [
        "

id

" => 

91


        "

league_id

" => 

9


        "

team_id

" => 

33


        "

team_name

" => "

Ipswich Town

"
        "

form

" => "

DWWW

"
        "

position

" => 

1


        "

played

" => 

4


        "

won

" => 

3


        "

drawn

" => 

1


        "

lost

" => 

0


        "

for

" => 

7


        "

against

" => 

2


        "

gd

" => 

5


        "

points

" => 

10


        "

created_at

" => "

2022-08-17 21:00:57

"
        "

updated_at

" => "

2022-08-17 21:00:57

"
      ]
      #

changes

: []
      #

casts

: []
      #

classCastCache

: []
      #

attributeCastCache

: []
      #

dates

: []
      #

dateFormat

: 

null


      #

appends

: 

array:1

 [
        

0

 => "

goals_for

"
      ]
      #

dispatchesEvents

: []
      #

observables

: []
      #

relations

: 

array:1

 [
        "

team

" => 

App\Models

\

Team {#2026
          #

connection

: "

mysql

"
          #

table

: "

teams

"
          #

primaryKey

: "

id

"
          #

keyType

: "

int

"
          +

incrementing

: 

true


          #

with

: 

array:1

 [
            

0

 => "

league

"
          ]
          #

withCount

: []
          +

preventsLazyLoading

: 

false


          #

perPage

: 

15


          +

exists

: 

true


          +

wasRecentlyCreated

: 

false


          #

escapeWhenCastingToString

: 

false


          #

attributes

: 

array:14

 [
            "

id

" => 

33


            "

name

" => "

Ipswich Town

"
            "

league_id

" => 

9


            "

color

" => "

#0033A0

"
            "

alt_color

" => "

#FE000C

"
            "

highlight_color

" => "

#0033A0

"
            "

text_color

" => "

#ffffff

"
            "

logo

" => "

https://fn365images.s3.eu-west-1.amazonaws.com/teamlogos/Ipswich/b5cfc402-d354-41b4-ae71-150302fcdfce.png

"
            "

home_kit

" => "

https://fn365images.s3.eu-west-1.amazonaws.com/teamlogos/Ipswich%2BTown-home_kit.png

"
            "

away_kit

" => "

https://fn365images.s3.eu-west-1.amazonaws.com/teamlogos/Ipswich%2BTown-away_kit.png

"
            "

apif_id

" => 

57


            "

apif_logo

" => "

https://media.api-sports.io/football/teams/57.png

"
            "

short_name

" => "

Ipswich

"
            "

api_token

" => "

tek6MWo33T7aZejc63STPheuzYXt01vTEWoOzPP3w8MzcWooopFmGRsd8USE

"
          ]
          #

original

: 

array:14

 [
            "

id

" => 

33


            "

name

" => "

Ipswich Town

"
            "

league_id

" => 

9


            "

color

" => "

#0033A0

"
            "

alt_color

" => "

#FE000C

"
            "

highlight_color

" => "

#0033A0

"
            "

text_color

" => "

#ffffff

"
            "

logo

" => "

https://fn365images.s3.eu-west-1.amazonaws.com/teamlogos/Ipswich/b5cfc402-d354-41b4-ae71-150302fcdfce.png

"
            "

home_kit

" => "

https://fn365images.s3.eu-west-1.amazonaws.com/teamlogos/Ipswich%2BTown-home_kit.png

"
            "

away_kit

" => "

https://fn365images.s3.eu-west-1.amazonaws.com/teamlogos/Ipswich%2BTown-away_kit.png

"
            "

apif_id

" => 

57


            "

apif_logo

" => "

https://media.api-sports.io/football/teams/57.png

"
            "

short_name

" => "

Ipswich

"
            "

api_token

" => "

tek6MWo33T7aZejc63STPheuzYXt01vTEWoOzPP3w8MzcWooopFmGRsd8USE

"
          ]
          #

changes

: []
          #

casts

: 

array:5

 [
            "

twitter_bot_enabled

" => "

boolean

"
            "

twitter_post_tweets

" => "

boolean

"
            "

twitter_dm_enabled

" => "

boolean

"
            "

twitter_landing_page

" => "

boolean

"
            "

chat_rooms

" => "

array

"
          ]
          #

classCastCache

: []
          #

attributeCastCache

: []
          #

dates

: []
          #

dateFormat

: 

null


          #

appends

: 

array:7

 [
            

0

 => "

apple_id

"
            

1

 => "

has_iap

"
            

2

 => "

has_onesignal

"
            

3

 => "

league_name

"
            

4

 => "

has_twitter

"
            

5

 => "

has_chat

"
            

6

 => "

slug

"
          ]
          #

dispatchesEvents

: []
          #

observables

: []
          #

relations

: 

array:1

 [
            "

league

" => 

App\Models

\

League {#1892 …30}
          ]
          #

touches

: []
          +

timestamps

: 

true


          #

hidden

: 

array:2

 [
            

0

 => "

fms_token

"
            

1

 => "

pem_file

"
          ]
          #

visible

: []
          #

fillable

: []
          #

guarded

: []
        }
      ]
      #

touches

: []
      +

timestamps

: 

true


      #

hidden

: []
      #

visible

: []
      #

fillable

: []
      #

guarded

: 

array:1

 [
        

0

 => "

*

"
      ]
    }
    

1

 => 

App\Models

\

LeagueTable {#1994
      #

connection

: "

mysql

"
      #

table

: "

league_tables

"
      #

primaryKey

: "

id

"
      #

keyType

: "

int

"
      +

incrementing

: 

true


      #

with

: []
      #

withCount

: []
      +

preventsLazyLoading

: 

false


      #

perPage

: 

15


      +

exists

: 

true


      +

wasRecentlyCreated

: 

false


      #

escapeWhenCastingToString

: 

false


      #

attributes

: 

array:16

 [
        "

id

" => 

92


        "

league_id

" => 

9


        "

team_id

" => 

106


        "

team_name

" => "

Peterborough United

"
        "

form

" => "

WWLW

"
        "

position

" => 

2


        "

played

" => 

4


        "

won

" => 

3


        "

drawn

" => 

0


        "

lost

" => 

1


        "

for

" => 

8


        "

against

" => 

4


        "

gd

" => 

4


        "

points

" => 

9


        "

created_at

" => "

2022-08-17 21:00:57

"
        "

updated_at

" => "

2022-08-17 21:00:57

"
      ]
      #

original

: 

array:16

 [
        "

id

" => 

92


        "

league_id

" => 

9


        "

team_id

" => 

106


        "

team_name

" => "

Peterborough United

"
        "

form

" => "

WWLW

"
        "

position

" => 

2


        "

played

" => 

4


        "

won

" => 

3


        "

drawn

" => 

0


        "

lost

" => 

1


        "

for

" => 

8


        "

against

" => 

4


        "

gd

" => 

4


        "

points

" => 

9


        "

created_at

" => "

2022-08-17 21:00:57

"
        "

updated_at

" => "

2022-08-17 21:00:57

"
      ]
      #

changes

: []
      #

casts

: []
      #

classCastCache

: []
      #

attributeCastCache

: []
      #

dates

: []
      #

dateFormat

: 

null


      #

appends

: 

array:1

 [
        

0

 => "

goals_for

"
      ]
      #

dispatchesEvents

: []
      #

observables

: []
      #

relations

: 

array:1

 [
        "

team

" => 

App\Models

\

Team {#2036
          #

connection

: "

mysql

"
          #

table

: "

teams

"
          #

primaryKey

: "

id

"
          #

keyType

: "

int

"
          +

incrementing

: 

true


          #

with

: 

array:1

 [
            

0

 => "

league

"
          ]
          #

withCount

: []
          +

preventsLazyLoading

: 

false


          #

perPage

: 

15


          +

exists

: 

true


          +

wasRecentlyCreated

: 

false


          #

escapeWhenCastingToString

: 

false


          #

attributes

: 

array:14

 [
            "

id

" => 

106


            "

name

" => "

Peterborough United

"
            "

league_id

" => 

9


            "

color

" => "

#0056b8

"
            "

alt_color

" => "

#333333

"
            "

highlight_color

" => "

#0a2f37

"
            "

text_color

" => "

#ffffff

"
            "

logo

" => "

https://fn365images.s3.eu-west-1.amazonaws.com/teamlogos/Peterborough/7edbee7e-ef45-46de-9986-d1f00408c6f4.png

"
            "

home_kit

" => "

https://fn365images.s3.eu-west-1.amazonaws.com/teamlogos/Peterborough%2BUnited-home_kit.png

"
            "

away_kit

" => "

https://fn365images.s3.eu-west-1.amazonaws.com/teamlogos/Peterborough%2BUnited-away_kit.png

"
            "

apif_id

" => 

1350


            "

apif_logo

" => "

https://media.api-sports.io/football/teams/1350.png

"
            "

short_name

" => "

Peterborough

"
            "

api_token

" => "

IOikYv3L7oc2dvy9gwC99uhzpi1evhpP04CiQF6W57ru51QpOczpMRwPNJhu

"
          ]
          #

original

: 

array:14

 [
            "

id

" => 

106


            "

name

" => "

Peterborough United

"
            "

league_id

" => 

9


            "

color

" => "

#0056b8

"
            "

alt_color

" => "

#333333

"
            "

highlight_color

" => "

#0a2f37

"
            "

text_color

" => "

#ffffff

"
            "

logo

" => "

https://fn365images.s3.eu-west-1.amazonaws.com/teamlogos/Peterborough/7edbee7e-ef45-46de-9986-d1f00408c6f4.png

"
            "

home_kit

" => "

https://fn365images.s3.eu-west-1.amazonaws.com/teamlogos/Peterborough%2BUnited-home_kit.png

"
            "

away_kit

" => "

https://fn365images.s3.eu-west-1.amazonaws.com/teamlogos/Peterborough%2BUnited-away_kit.png

"
            "

apif_id

" => 

1350


            "

apif_logo

" => "

https://media.api-sports.io/football/teams/1350.png

"
            "

short_name

" => "

Peterborough

"
            "

api_token

" => "

IOikYv3L7oc2dvy9gwC99uhzpi1evhpP04CiQF6W57ru51QpOczpMRwPNJhu

"
          ]
          #

changes

: []
          #

casts

: 

array:5

 [
            "

twitter_bot_enabled

" => "

boolean

"
            "

twitter_post_tweets

" => "

boolean

"
            "

twitter_dm_enabled

" => "

boolean

"
            "

twitter_landing_page

" => "

boolean

"
            "

chat_rooms

" => "

array

"
          ]
          #

classCastCache

: []
          #

attributeCastCache

: []
          #

dates

: []
          #

dateFormat

: 

null


          #

appends

: 

array:7

 [
            

0

 => "

apple_id

"
            

1

 => "

has_iap

"
            

2

 => "

has_onesignal

"
            

3

 => "

league_name

"
            

4

 => "

has_twitter

"
            

5

 => "

has_chat

"
            

6

 => "

slug

"
          ]
          #

dispatchesEvents

: []
          #

observables

: []
          #

relations

: 

array:1

 [
            "

league

" => 

App\Models

\

League {#1892 …30}
          ]
          #

touches

: []
          +

timestamps

: 

true


          #

hidden

: 

array:2

 [
            

0

 => "

fms_token

"
            

1

 => "

pem_file

"
          ]
          #

visible

: []
          #

fillable

: []
          #

guarded

: []
        }
      ]
      #

touches

: []
      +

timestamps

: 

true


      #

hidden

: []
      #

visible

: []
      #

fillable

: []
      #

guarded

: 

array:1

 [
        

0

 => "

*

"
      ]
    }
    

2

 => 

App\Models

\

LeagueTable {#1995
      #

connection

: "

mysql

"
      #

table

: "

league_tables

"
      #

primaryKey

: "

id

"
      #

keyType

: "

int

"
      +

incrementing

: 

true


      #

with

: []
      #

withCount

: []
      +

preventsLazyLoading

: 

false


      #

perPage

: 

15


      +

exists

: 

true


      +

wasRecentlyCreated

: 

false


      #

escapeWhenCastingToString

: 

false


      #

attributes

: 

array:16

 [
        "

id

" => 

93


        "

league_id

" => 

9


        "

team_id

" => 

117


        "

team_name

" => "

Portsmouth

"
        "

form

" => "

DDWW

"
        "

position

" => 

3


        "

played

" => 

4


        "

won

" => 

2


        "

drawn

" => 

2


        "

lost

" => 

0


        "

for

" => 

9


        "

against

" => 

4


        "

gd

" => 

5


        "

points

" => 

8


        "

created_at

" => "

2022-08-17 21:00:57

"
        "

updated_at

" => "

2022-08-17 21:00:57

"
      ]
      #

original

: 

array:16

 [
        "

id

" => 

93


        "

league_id

" => 

9


        "

team_id

" => 

117


        "

team_name

" => "

Portsmouth

"
        "

form

" => "

DDWW

"
        "

position

" => 

3


        "

played

" => 

4


        "

won

" => 

2


        "

drawn

" => 

2


        "

lost

" => 

0


        "

for

" => 

9


        "

against

" => 

4


        "

gd

" => 

5


        "

points

" => 

8


        "

created_at

" => "

2022-08-17 21:00:57

"
        "

updated_at

" => "

2022-08-17 21:00:57

"
      ]
      #

changes

: []
      #

casts

: []
      #

classCastCache

: []
      #

attributeCastCache

: []
      #

dates

: []
      #

dateFormat

: 

null


      #

appends

: 

array:1

 [
        

0

 => "

goals_for

"
      ]
      #

dispatchesEvents

: []
      #

observables

: []
      #

relations

: 

array:1

 [
        "

team

" => 

App\Models

\

Team {#2041
          #

connection

: "

mysql

"
          #

table

: "

teams

"
          #

primaryKey

: "

id

"
          #

keyType

: "

int

"
          +

incrementing

: 

true


          #

with

: 

array:1

 [
            

0

 => "

league

"
          ]
          #

withCount

: []
          +

preventsLazyLoading

: 

false


          #

perPage

: 

15


          +

exists

: 

true


          +

wasRecentlyCreated

: 

false


          #

escapeWhenCastingToString

: 

false


          #

attributes

: 

array:14

 [
            "

id

" => 

117


            "

name

" => "

Portsmouth

"
            "

league_id

" => 

9


            "

color

" => "

#0033a0

"
            "

alt_color

" => "

#fc3737

"
            "

highlight_color

" => "

#0a2f37

"
            "

text_color

" => "

#ffffff

"
            "

logo

" => "

https://fn365images.s3.eu-west-1.amazonaws.com/teamlogos/Portsmouth/d5edae13-d152-4b23-b439-bb7b5e556a78.png

"
            "

home_kit

" => "

https://fn365images.s3.eu-west-1.amazonaws.com/teamlogos/Portsmouth-home_kit.png

"
            "

away_kit

" => "

https://fn365images.s3.eu-west-1.amazonaws.com/teamlogos/Portsmouth-away_kit.png

"
            "

apif_id

" => 

1355


            "

apif_logo

" => "

https://media.api-sports.io/football/teams/1355.png

"
            "

short_name

" => "

Portsmouth

"
            "

api_token

" => "

JJsLKCHJ1NrUHmx04ITPsBhsZC23RH8JBSO1f7CxrjzNsdEvJ5ry1c7wmZYq

"
          ]
          #

original

: 

array:14

 [
            "

id

" => 

117


            "

name

" => "

Portsmouth

"
            "

league_id

" => 

9


            "

color

" => "

#0033a0

"
            "

alt_color

" => "

#fc3737

"
            "

highlight_color

" => "

#0a2f37

"
            "

text_color

" => "

#ffffff

"
            "

logo

" => "

https://fn365images.s3.eu-west-1.amazonaws.com/teamlogos/Portsmouth/d5edae13-d152-4b23-b439-bb7b5e556a78.png

"
            "

home_kit

" => "

https://fn365images.s3.eu-west-1.amazonaws.com/teamlogos/Portsmouth-home_kit.png

"
            "

away_kit

" => "

https://fn365images.s3.eu-west-1.amazonaws.com/teamlogos/Portsmouth-away_kit.png

"
            "

apif_id

" => 

1355


            "

apif_logo

" => "

https://media.api-sports.io/football/teams/1355.png

"
            "

short_name

" => "

Portsmouth

"
            "

api_token

" => "

JJsLKCHJ1NrUHmx04ITPsBhsZC23RH8JBSO1f7CxrjzNsdEvJ5ry1c7wmZYq

"
          ]
          #

changes

: []
          #

casts

: 

array:5

 [
            "

twitter_bot_enabled

" => "

boolean

"
            "

twitter_post_tweets

" => "

boolean

"
            "

twitter_dm_enabled

" => "

boolean

"
            "

twitter_landing_page

" => "

boolean

"
            "

chat_rooms

" => "

array

"
          ]
          #

classCastCache

: []
          #

attributeCastCache

: []
          #

dates

: []
          #

dateFormat

: 

null


          #

appends

: 

array:7

 [
            

0

 => "

apple_id

"
            

1

 => "

has_iap

"
            

2

 => "

has_onesignal

"
            

3

 => "

league_name

"
            

4

 => "

has_twitter

"
            

5

 => "

has_chat

"
            

6

 => "

slug

"
          ]
          #

dispatchesEvents

: []
          #

observables

: []
          #

relations

: 

array:1

 [
            "

league

" => 

App\Models

\

League {#1892 …30}
          ]
          #

touches

: []
          +

timestamps

: 

true


          #

hidden

: 

array:2

 [
            

0

 => "

fms_token

"
            

1

 => "

pem_file

"
          ]
          #

visible

: []
          #

fillable

: []
          #

guarded

: []
        }
      ]
      #

touches

: []
      +

timestamps

: 

true


      #

hidden

: []
      #

visible

: []
      #

fillable

: []
      #

guarded

: 

array:1

 [
        

0

 => "

*

"
      ]
    }
    

3

 => 

App\Models

\

LeagueTable {#1996
      #

connection

: "

mysql

"
      #

table

: "

league_tables

"
      #

primaryKey

: "

id

"
      #

keyType

: "

int

"
      +

incrementing

: 

true


      #

with

: []
      #

withCount

: []
      +

preventsLazyLoading

: 

false


      #

perPage

: 

15


      +

exists

: 

true


      +

wasRecentlyCreated

: 

false


      #

escapeWhenCastingToString

: 

false


      #

attributes

: 

array:16

 [
        "

id

" => 

94


        "

league_id

" => 

9


        "

team_id

" => 

41


        "

team_name

" => "

Bolton Wanderers

"
        "

form

" => "

DWDW

"
        "

position

" => 

4


        "

played

" => 

4


        "

won

" => 

2


        "

drawn

" => 

2


        "

lost

" => 

0


        "

for

" => 

5


        "

against

" => 

1


        "

gd

" => 

4


        "

points

" => 

8


        "

created_at

" => "

2022-08-17 21:00:57

"
        "

updated_at

" => "

2022-08-17 21:00:57

"
      ]
      #

original

: 

array:16

 [
        "

id

" => 

94


        "

league_id

" => 

9


        "

team_id

" => 

41


        "

team_name

" => "

Bolton Wanderers

"
        "

form

" => "

DWDW

"
        "

position

" => 

4


        "

played

" => 

4


        "

won

" => 

2


        "

drawn

" => 

2


        "

lost

" => 

0


        "

for

" => 

5


        "

against

" => 

1


        "

gd

" => 

4


        "

points

" => 

8


        "

created_at

" => "

2022-08-17 21:00:57

"
        "

updated_at

" => "

2022-08-17 21:00:57

"
      ]
      #

changes

: []
      #

casts

: []
      #

classCastCache

: []
      #

attributeCastCache

: []
      #

dates

: []
      #

dateFormat

: 

null


      #

appends

: 

array:1

 [
        

0

 => "

goals_for

"
      ]
      #

dispatchesEvents

: []
      #

observables

: []
      #

relations

: 

array:1

 [
        "

team

" => 

App\Models

\

Team {#2027
          #

connection

: "

mysql

"
          #

table

: "

teams

"
          #

primaryKey

: "

id

"
          #

keyType

: "

int

"
          +

incrementing

: 

true


          #

with

: 

array:1

 [
            

0

 => "

league

"
          ]
          #

withCount

: []
          +

preventsLazyLoading

: 

false


          #

perPage

: 

15


          +

exists

: 

true


          +

wasRecentlyCreated

: 

false


          #

escapeWhenCastingToString

: 

false


          #

attributes

: 

array:14

 [
            "

id

" => 

41


            "

name

" => "

Bolton Wanderers

"
            "

league_id

" => 

9


            "

color

" => "

#ffffff

"
            "

alt_color

" => "

#ff0b00

"
            "

highlight_color

" => "

#00205b

"
            "

text_color

" => "

#00205b

"
            "

logo

" => "

https://fn365images.s3.eu-west-1.amazonaws.com/teamlogos/BWFC/67febcbb-d09c-441c-8eb2-09f2cfc792b3.png

"
            "

home_kit

" => "

https://fn365images.s3.eu-west-1.amazonaws.com/teamlogos/Bolton-home_kit.png

"
            "

away_kit

" => "

https://fn365images.s3.eu-west-1.amazonaws.com/teamlogos/Bolton-away_kit.png

"
            "

apif_id

" => 

68


            "

apif_logo

" => "

https://media.api-sports.io/football/teams/68.png

"
            "

short_name

" => "

BWFC

"
            "

api_token

" => "

nK8KdDme3LcmmDDEf8eaV1occmw5eFhIeBe2DGZ4tHrkH3R0zKWQWq79fHMB

"
          ]
          #

original

: 

array:14

 [
            "

id

" => 

41


            "

name

" => "

Bolton Wanderers

"
            "

league_id

" => 

9


            "

color

" => "

#ffffff

"
            "

alt_color

" => "

#ff0b00

"
            "

highlight_color

" => "

#00205b

"
            "

text_color

" => "

#00205b

"
            "

logo

" => "

https://fn365images.s3.eu-west-1.amazonaws.com/teamlogos/BWFC/67febcbb-d09c-441c-8eb2-09f2cfc792b3.png

"
            "

home_kit

" => "

https://fn365images.s3.eu-west-1.amazonaws.com/teamlogos/Bolton-home_kit.png

"
            "

away_kit

" => "

https://fn365images.s3.eu-west-1.amazonaws.com/teamlogos/Bolton-away_kit.png

"
            "

apif_id

" => 

68


            "

apif_logo

" => "

https://media.api-sports.io/football/teams/68.png

"
            "

short_name

" => "

BWFC

"
            "

api_token

" => "

nK8KdDme3LcmmDDEf8eaV1occmw5eFhIeBe2DGZ4tHrkH3R0zKWQWq79fHMB

"
          ]
          #

changes

: []
          #

casts

: 

array:5

 [
            "

twitter_bot_enabled

" => "

boolean

"
            "

twitter_post_tweets

" => "

boolean

"
            "

twitter_dm_enabled

" => "

boolean

"
            "

twitter_landing_page

" => "

boolean

"
            "

chat_rooms

" => "

array

"
          ]
          #

classCastCache

: []
          #

attributeCastCache

: []
          #

dates

: []
          #

dateFormat

: 

null


          #

appends

: 

array:7

 [
            

0

 => "

apple_id

"
            

1

 => "

has_iap

"
            

2

 => "

has_onesignal

"
            

3

 => "

league_name

"
            

4

 => "

has_twitter

"
            

5

 => "

has_chat

"
            

6

 => "

slug

"
          ]
          #

dispatchesEvents

: []
          #

observables

: []
          #

relations

: 

array:1

 [
            "

league

" => 

App\Models

\

League {#1892 …30}
          ]
          #

touches

: []
          +

timestamps

: 

true


          #

hidden

: 

array:2

 [
            

0

 => "

fms_token

"
            

1

 => "

pem_file

"
          ]
          #

visible

: []
          #

fillable

: []
          #

guarded

: []
        }
      ]
      #

touches

: []
      +

timestamps

: 

true


      #

hidden

: []
      #

visible

: []
      #

fillable

: []
      #

guarded

: 

array:1

 [
        

0

 => "

*

"
      ]
    }
    

4

 => 

App\Models

\

LeagueTable {#1997
      #

connection

: "

mysql

"
      #

table

: "

league_tables

"
      #

primaryKey

: "

id

"
      #

keyType

: "

int

"
      +

incrementing

: 

true


      #

with

: []
      #

withCount

: []
      +

preventsLazyLoading

: 

false


      #

perPage

: 

15


      +

exists

: 

true


      +

wasRecentlyCreated

: 

false


      #

escapeWhenCastingToString

: 

false


      #

attributes

: 

array:16

 [
        "

id

" => 

95


        "

league_id

" => 

9


        "

team_id

" => 

93


        "

team_name

" => "

Exeter City

"
        "

form

" => "

DWLW

"
        "

position

" => 

5


        "

played

" => 

4


        "

won

" => 

2


        "

drawn

" => 

1


        "

lost

" => 

1


        "

for

" => 

9


        "

against

" => 

4


        "

gd

" => 

5


        "

points

" => 

7


        "

created_at

" => "

2022-08-17 21:00:57

"
        "

updated_at

" => "

2022-08-17 21:00:57

"
      ]
      #

original

: 

array:16

 [
        "

id

" => 

95


        "

league_id

" => 

9


        "

team_id

" => 

93


        "

team_name

" => "

Exeter City

"
        "

form

" => "

DWLW

"
        "

position

" => 

5


        "

played

" => 

4


        "

won

" => 

2


        "

drawn

" => 

1


        "

lost

" => 

1


        "

for

" => 

9


        "

against

" => 

4


        "

gd

" => 

5


        "

points

" => 

7


        "

created_at

" => "

2022-08-17 21:00:57

"
        "

updated_at

" => "

2022-08-17 21:00:57

"
      ]
      #

changes

: []
      #

casts

: []
      #

classCastCache

: []
      #

attributeCastCache

: []
      #

dates

: []
      #

dateFormat

: 

null


      #

appends

: 

array:1

 [
        

0

 => "

goals_for

"
      ]
      #

dispatchesEvents

: []
      #

observables

: []
      #

relations

: 

array:1

 [
        "

team

" => 

App\Models

\

Team {#2033
          #

connection

: "

mysql

"
          #

table

: "

teams

"
          #

primaryKey

: "

id

"
          #

keyType

: "

int

"
          +

incrementing

: 

true


          #

with

: 

array:1

 [
            

0

 => "

league

"
          ]
          #

withCount

: []
          +

preventsLazyLoading

: 

false


          #

perPage

: 

15


          +

exists

: 

true


          +

wasRecentlyCreated

: 

false


          #

escapeWhenCastingToString

: 

false


          #

attributes

: 

array:14

 [
            "

id

" => 

93


            "

name

" => "

Exeter City

"
            "

league_id

" => 

9


            "

color

" => "

#000000

"
            "

alt_color

" => "

#da291c

"
            "

highlight_color

" => "

#0a2f37

"
            "

text_color

" => "

#ffffff

"
            "

logo

" => "

https://fn365images.s3.eu-west-1.amazonaws.com/teamlogos/Exeter/ba91540f-d6ee-4bfa-9030-e5f1c8e335de.png

"
            "

home_kit

" => "

https://fn365images.s3.eu-west-1.amazonaws.com/teamlogos/Exeter%2BCity-home_kit.png

"
            "

away_kit

" => "

https://fn365images.s3.eu-west-1.amazonaws.com/teamlogos/Exeter%2BCity-away_kit.png

"
            "

apif_id

" => 

1364


            "

apif_logo

" => "

https://media.api-sports.io/football/teams/1364.png

"
            "

short_name

" => "

Exeter

"
            "

api_token

" => "

jRico2hdPdPqgQoGrgsGtaaqRC25UpvR0jrqUpxUxJr2yJnGYxK1XyoFRYmm

"
          ]
          #

original

: 

array:14

 [
            "

id

" => 

93


            "

name

" => "

Exeter City

"
            "

league_id

" => 

9


            "

color

" => "

#000000

"
            "

alt_color

" => "

#da291c

"
             …9
          ]
          #

changes

: []
          #

casts

: 

array:5

 [ …5]
          #

classCastCache

: []
          #

attributeCastCache

: []
          #

dates

: []
          #

dateFormat

: 

null


          #

appends

: 

array:7

 [ …7]
          #

dispatchesEvents

: []
          #

observables

: []
          #

relations

: 

array:1

 [ …1]
          #

touches

: []
          +

timestamps

: 

true


          #

hidden

: 

array:2

 [ …2]
          #

visible

: []
          #

fillable

: []
          #

guarded

: []
        }
      ]
      #

touches

: []
      +

timestamps

: 

true


      #

hidden

: []
      #

visible

: []
      #

fillable

: []
      #

guarded

: 

array:1

 [
        

0

 => "

*

"
      ]
    }
    

5

 => 

App\Models

\

LeagueTable {#1998
      #

connection

: "

mysql

"
      #

table

: "

league_tables

"
      #

primaryKey

: "

id

"
      #

keyType

: "

int

"
      +

incrementing

: 

true


      #

with

: []
      #

withCount

: []
      +

preventsLazyLoading

: 

false


      #

perPage

: 

15


      +

exists

: 

true


      +

wasRecentlyCreated

: 

false


      #

escapeWhenCastingToString

: 

false


      #

attributes

: 

array:16

 [
        "

id

" => 

96


        "

league_id

" => 

9


        "

team_id

" => 

125


        "

team_name

" => "

Charlton Athletic

"
        "

form

" => "

DWLW

"
        "

position

" => 

6


        "

played

" => 

4


        "

won

" => 

2


        "

drawn

" => 

1


        "

lost

" => 

1


        "

for

" => 

8


        "

against

" => 

4


        "

gd

" => 

4


        "

points

" => 

7


        "

created_at

" => "

2022-08-17 21:00:57

"
        "

updated_at

" => "

2022-08-17 21:00:57

"
      ]
      #

original

: 

array:16

 [
        "

id

" => 

96


        "

league_id

" => 

9


        "

team_id

" => 

125


        "

team_name

" => "

Charlton Athletic

"
        "

form

" => "

DWLW

"
        "

position

" => 

6


        "

played

" => 

4


        "

won

" => 

2


        "

drawn

" => 

1


        "

lost

" => 

1


        "

for

" => 

8


        "

against

" => 

4


        "

gd

" => 

4


        "

points

" => 

7


        "

created_at

" => "

2022-08-17 21:00:57

"
        "

updated_at

" => "

2022-08-17 21:00:57

"
      ]
      #

changes

: []
      #

casts

: []
      #

classCastCache

: []
      #

attributeCastCache

: []
      #

dates

: []
      #

dateFormat

: 

null


      #

appends

: 

array:1

 [
        

0

 => "

goals_for

"
      ]
      #

dispatchesEvents

: []
      #

observables

: []
      #

relations

: 

array:1

 [
        "

team

" => 

App\Models

\

Team {#2045
          #

connection

: "

mysql

"
          #

table

: "

teams

"
          #

primaryKey

: "

id

"
          #

keyType

: "

int

"
          +

incrementing

: 

true


          #

with

: 

array:1

 [ …1]
          #

withCount

: []
          +

preventsLazyLoading

: 

false


          #

perPage

: 

15


          +

exists

: 

true


          +

wasRecentlyCreated

: 

false


          #

escapeWhenCastingToString

: 

false


          #

attributes

: 

array:14

 [ …14]
          #

original

: 

array:14

 [ …14]
          #

changes

: []
          #

casts

: 

array:5

 [ …5]
          #

classCastCache

: []
          #

attributeCastCache

: []
          #

dates

: []
          #

dateFormat

: 

null


          #

appends

: 

array:7

 [ …7]
          #

dispatchesEvents

: []
          #

observables

: []
          #

relations

: 

array:1

 [ …1]
          #

touches

: []
          +

timestamps

: 

true


          #

hidden

: 

array:2

 [ …2]
          #

visible

: []
          #

fillable

: []
          #

guarded

: []
        }
      ]
      #

touches

: []
      +

timestamps

: 

true


      #

hidden

: []
      #

visible

: []
      #

fillable

: []
      #

guarded

: 

array:1

 [
        

0

 => "

*

"
      ]
    }
    

6

 => 

App\Models

\

LeagueTable {#1999
      #

connection

: "

mysql

"
      #

table

: "

league_tables

"
      #

primaryKey

: "

id

"
      #

keyType

: "

int

"
      +

incrementing

: 

true


      #

with

: []
      #

withCount

: []
      +

preventsLazyLoading

: 

false


      #

perPage

: 

15


      +

exists

: 

true


      +

wasRecentlyCreated

: 

false


      #

escapeWhenCastingToString

: 

false


      #

attributes

: 

array:16

 [
        "

id

" => 

97


        "

league_id

" => 

9


        "

team_id

" => 

28


        "

team_name

" => "

Derby County

"
        "

form

" => "

WLWD

"
        "

position

" => 

7


        "

played

" => 

4


        "

won

" => 

2


        "

drawn

" => 

1


        "

lost

" => 

1


        "

for

" => 

3


        "

against

" => 

2


        "

gd

" => 

1


        "

points

" => 

7


        "

created_at

" => "

2022-08-17 21:00:57

"
        "

updated_at

" => "

2022-08-17 21:00:57

"
      ]
      #

original

: 

array:16

 [
        "

id

" => 

97


        "

league_id

" => 

9


        "

team_id

" => 

28


        "

team_name

" => "

Derby County

"
        "

form

" => "

WLWD

"
        "

position

" => 

7


        "

played

" => 

4


        "

won

" => 

2


        "

drawn

" => 

1


        "

lost

" => 

1


        "

for

" => 

3


        "

against

" => 

2


        "

gd

" => 

1


        "

points

" => 

7


        "

created_at

" => "

2022-08-17 21:00:57

"
        "

updated_at

" => "

2022-08-17 21:00:57

"
      ]
      #

changes

: []
      #

casts

: []
      #

classCastCache

: []
      #

attributeCastCache

: []
      #

dates

: []
      #

dateFormat

: 

null


      #

appends

: 

array:1

 [
        

0

 => "

goals_for

"
      ]
      #

dispatchesEvents

: []
      #

observables

: []
      #

relations

: 

array:1

 [
        "

team

" => 

App\Models

\

Team {#2024
          #

connection

: "

mysql

"
          #

table

: "

teams

"
          #

primaryKey

: "

id

"
          #

keyType

: "

int

"
          +

incrementing

: 

true


          #

with

: 

array:1

 [ …1]
          #

withCount

: []
          +

preventsLazyLoading

: 

false


          #

perPage

: 

15


          +

exists

: 

true


          +

wasRecentlyCreated

: 

false


          #

escapeWhenCastingToString

: 

false


          #

attributes

: 

array:14

 [ …14]
          #

original

: 

array:14

 [ …14]
          #

changes

: []
          #

casts

: 

array:5

 [ …5]
          #

classCastCache

: []
          #

attributeCastCache

: []
          #

dates

: []
          #

dateFormat

: 

null


          #

appends

: 

array:7

 [ …7]
          #

dispatchesEvents

: []
          #

observables

: []
          #

relations

: 

array:1

 [ …1]
          #

touches

: []
          +

timestamps

: 

true


          #

hidden

: 

array:2

 [ …2]
          #

visible

: []
          #

fillable

: []
          #

guarded

: []
        }
      ]
      #

touches

: []
      +

timestamps

: 

true


      #

hidden

: []
      #

visible

: []
      #

fillable

: []
      #

guarded

: 

array:1

 [
        

0

 => "

*

"
      ]
    }
    

7

 => 

App\Models

\

LeagueTable {#2000
      #

connection

: "

mysql

"
      #

table

: "

league_tables

"
      #

primaryKey

: "

id

"
      #

keyType

: "

int

"
      +

incrementing

: 

true


      #

with

: []
      #

withCount

: []
      +

preventsLazyLoading

: 

false


      #

perPage

: 

15


      +

exists

: 

true


      +

wasRecentlyCreated

: 

false


      #

escapeWhenCastingToString

: 

false


      #

attributes

: 

array:16

 [
        "

id

" => 

98


        "

league_id

" => 

9


        "

team_id

" => 

30


        "

team_name

" => "

Sheffield Wednesday

"
        "

form

" => "

DWWL

"
        "

position

" => 

8


        "

played

" => 

4


        "

won

" => 

2


        "

drawn

" => 

1


        "

lost

" => 

1


        "

for

" => 

5


        "

against

" => 

5


        "

gd

" => 

0


        "

points

" => 

7


        "

created_at

" => "

2022-08-17 21:00:57

"
        "

updated_at

" => "

2022-08-17 21:00:57

"
      ]
      #

original

: 

array:16

 [
        "

id

" => 

98


        "

league_id

" => 

9


        "

team_id

" => 

30


        "

team_name

" => "

Sheffield Wednesday

"
        "

form

" => "

DWWL

"
        "

position

" => 

8


        "

played

" => 

4


        "

won

" => 

2


        "

drawn

" => 

1


        "

lost

" => 

1


        "

for

" => 

5


        "

against

" => 

5


        "

gd

" => 

0


        "

points

" => 

7


        "

created_at

" => "

2022-08-17 21:00:57

"
        "

updated_at

" => "

2022-08-17 21:00:57

"
      ]
      #

changes

: []
      #

casts

: []
      #

classCastCache

: []
      #

attributeCastCache

: []
      #

dates

: []
      #

dateFormat

: 

null


      #

appends

: 

array:1

 [
        

0

 => "

goals_for

"
      ]
      #

dispatchesEvents

: []
      #

observables

: []
      #

relations

: 

array:1

 [
        "

team

" => 

App\Models

\

Team {#2025
          #

connection

: "

mysql

"
          #

table

: "

teams

"
          #

primaryKey

: "

id

"
          #

keyType

: "

int

"
          +

incrementing

: 

true


          #

with

: 

array:1

 [ …1]
          #

withCount

: []
          +

preventsLazyLoading

: 

false


          #

perPage

: 

15


          +

exists

: 

true


          +

wasRecentlyCreated

: 

false


          #

escapeWhenCastingToString

: 

false


          #

attributes

: 

array:14

 [ …14]
          #

original

: 

array:14

 [ …14]
          #

changes

: []
          #

casts

: 

array:5

 [ …5]
          #

classCastCache

: []
          #

attributeCastCache

: []
          #

dates

: []
          #

dateFormat

: 

null


          #

appends

: 

array:7

 [ …7]
          #

dispatchesEvents

: []
          #

observables

: []
          #

relations

: 

array:1

 [ …1]
          #

touches

: []
          +

timestamps

: 

true


          #

hidden

: 

array:2

 [ …2]
          #

visible

: []
          #

fillable

: []
          #

guarded

: []
        }
      ]
      #

touches

: []
      +

timestamps

: 

true


      #

hidden

: []
      #

visible

: []
      #

fillable

: []
      #

guarded

: 

array:1

 [
        

0

 => "

*

"
      ]
    }
    

8

 => 

App\Models

\

LeagueTable {#2001
      #

connection

: "

mysql

"
      #

table

: "

league_tables

"
      #

primaryKey

: "

id

"
      #

keyType

: "

int

"
      +

incrementing

: 

true


      #

with

: []
      #

withCount

: []
      +

preventsLazyLoading

: 

false


      #

perPage

: 

15


      +

exists

: 

true


      +

wasRecentlyCreated

: 

false


      #

escapeWhenCastingToString

: 

false


      #

attributes

: 

array:16

 [
        "

id

" => 

99


        "

league_id

" => 

9


        "

team_id

" => 

126


        "

team_name

" => "

Barnsley

"
        "

form

" => "

LWLW

"
        "

position

" => 

9


        "

played

" => 

4


        "

won

" => 

2


        "

drawn

" => 

0


        "

lost

" => 

2


        "

for

" => 

5


        "

against

" => 

3


        "

gd

" => 

2


        "

points

" => 

6


        "

created_at

" => "

2022-08-17 21:00:57

"
        "

updated_at

" => "

2022-08-17 21:00:57

"
      ]
      #

original

: 

array:16

 [
        "

id

" => 

99


        "

league_id

" => 

9


        "

team_id

" => 

126


        "

team_name

" => "

Barnsley

"
        "

form

" => "

LWLW

"
        "

position

" => 

9


        "

played

" => 

4


        "

won

" => 

2


        "

drawn

" => 

0


        "

lost

" => 

2


        "

for

" => 

5


        "

against

" => 

3


        "

gd

" => 

2


        "

points

" => 

6


        "

created_at

" => "

2022-08-17 21:00:57

"
        "

updated_at

" => "

2022-08-17 21:00:57

"
      ]
      #

changes

: []
      #

casts

: []
      #

classCastCache

: []
      #

attributeCastCache

: []
      #

dates

: []
      #

dateFormat

: 

null


      #

appends

: 

array:1

 [
        

0

 => "

goals_for

"
      ]
      #

dispatchesEvents

: []
      #

observables

: []
      #

relations

: 

array:1

 [
        "

team

" => 

App\Models

\

Team {#2046
          #

connection

: "

mysql

"
          #

table

: "

teams

"
          #

primaryKey

: "

id

"
          #

keyType

: "

int

"
          +

incrementing

: 

true


          #

with

: 

array:1

 [ …1]
          #

withCount

: []
          +

preventsLazyLoading

: 

false


          #

perPage

: 

15


          +

exists

: 

true


          +

wasRecentlyCreated

: 

false


          #

escapeWhenCastingToString

: 

false


          #

attributes

: 

array:14

 [ …14]
          #

original

: 

array:14

 [ …14]
          #

changes

: []
          #

casts

: 

array:5

 [ …5]
          #

classCastCache

: []
          #

attributeCastCache

: []
          #

dates

: []
          #

dateFormat

: 

null


          #

appends

: 

array:7

 [ …7]
          #

dispatchesEvents

: []
          #

observables

: []
          #

relations

: 

array:1

 [ …1]
          #

touches

: []
          +

timestamps

: 

true


          #

hidden

: 

array:2

 [ …2]
          #

visible

: []
          #

fillable

: []
          #

guarded

: []
        }
      ]
      #

touches

: []
      +

timestamps

: 

true


      #

hidden

: []
      #

visible

: []
      #

fillable

: []
      #

guarded

: 

array:1

 [
        

0

 => "

*

"
      ]
    }
    

9

 => 

App\Models

\

LeagueTable {#2002
      #

connection

: "

mysql

"
      #

table

: "

league_tables

"
      #

primaryKey

: "

id

"
      #

keyType

: "

int

"
      +

incrementing

: 

true


      #

with

: []
      #

withCount

: []
      +

preventsLazyLoading

: 

false


      #

perPage

: 

15


      +

exists

: 

true


      +

wasRecentlyCreated

: 

false


      #

escapeWhenCastingToString

: 

false


      #

attributes

: 

array:16

 [
        "

id

" => 

100


        "

league_id

" => 

9


        "

team_id

" => 

114


        "

team_name

" => "

Bristol Rovers

"
        "

form

" => "

LWWL

"
        "

position

" => 

10


        "

played

" => 

4


        "

won

" => 

2


        "

drawn

" => 

0


        "

lost

" => 

2


        "

for

" => 

6


        "

against

" => 

5


        "

gd

" => 

1


        "

points

" => 

6


        "

created_at

" => "

2022-08-17 21:00:57

"
        "

updated_at

" => "

2022-08-17 21:00:57

"
      ]
      #

original

: 

array:16

 [
        "

id

" => 

100


        "

league_id

" => 

9


        "

team_id

" => 

114


        "

team_name

" => "

Bristol Rovers

"
        "

form

" => "

LWWL

"
        "

position

" => 

10


        "

played

" => 

4


        "

won

" => 

2


        "

drawn

" => 

0


        "

lost

" => 

2


        "

for

" => 

6


        "

against

" => 

5


        "

gd

" => 

1


        "

points

" => 

6


        "

created_at

" => "

2022-08-17 21:00:57

"
        "

updated_at

" => "

2022-08-17 21:00:57

"
      ]
      #

changes

: []
      #

casts

: []
      #

classCastCache

: []
      #

attributeCastCache

: []
      #

dates

: []
      #

dateFormat

: 

null


      #

appends

: 

array:1

 [
        

0

 => "

goals_for

"
      ]
      #

dispatchesEvents

: []
      #

observables

: []
      #

relations

: 

array:1

 [
        "

team

" => 

App\Models

\

Team {#2039
          #

connection

: "

mysql

"
          #

table

: "

teams

"
          #

primaryKey

: "

id

"
          #

keyType

: "

int

"
          +

incrementing

: 

true


          #

with

: 

array:1

 [ …1]
          #

withCount

: []
          +

preventsLazyLoading

: 

false


          #

perPage

: 

15


          +

exists

: 

true


          +

wasRecentlyCreated

: 

false


          #

escapeWhenCastingToString

: 

false


          #

attributes

: 

array:14

 [ …14]
          #

original

: 

array:14

 [ …14]
          #

changes

: []
          #

casts

: 

array:5

 [ …5]
          #

classCastCache

: []
          #

attributeCastCache

: []
          #

dates

: []
          #

dateFormat

: 

null


          #

appends

: 

array:7

 [ …7]
          #

dispatchesEvents

: []
          #

observables

: []
          #

relations

: 

array:1

 [ …1]
          #

touches

: []
          +

timestamps

: 

true


          #

hidden

: 

array:2

 [ …2]
          #

visible

: []
          #

fillable

: []
          #

guarded

: []
        }
      ]
      #

touches

: []
      +

timestamps

: 

true


      #

hidden

: []
      #

visible

: []
      #

fillable

: []
      #

guarded

: 

array:1

 [
        

0

 => "

*

"
      ]
    }
    

10

 => 

App\Models

\

LeagueTable {#2003
      #

connection

: "

mysql

"
      #

table

: "

league_tables

"
      #

primaryKey

: "

id

"
      #

keyType

: "

int

"
      +

incrementing

: 

true


      #

with

: []
      #

withCount

: []
      +

preventsLazyLoading

: 

false


      #

perPage

: 

15


      +

exists

: 

true


      +

wasRecentlyCreated

: 

false


      #

escapeWhenCastingToString

: 

false


      #

attributes

: 

array:16

 [
        "

id

" => 

101


        "

league_id

" => 

9


        "

team_id

" => 

83


        "

team_name

" => "

Lincoln City

"
        "

form

" => "

DDDW

"
        "

position

" => 

11


        "

played

" => 

4


        "

won

" => 

1


        "

drawn

" => 

3


        "

lost

" => 

0


        "

for

" => 

4


        "

against

" => 

3


        "

gd

" => 

1


        "

points

" => 

6


        "

created_at

" => "

2022-08-17 21:00:57

"
        "

updated_at

" => "

2022-08-17 21:00:57

"
      ]
      #

original

: 

array:16

 [
        "

id

" => 

101


        "

league_id

" => 

9


        "

team_id

" => 

83


        "

team_name

" => "

Lincoln City

"
        "

form

" => "

DDDW

"
        "

position

" => 

11


        "

played

" => 

4


        "

won

" => 

1


        "

drawn

" => 

3


        "

lost

" => 

0


        "

for

" => 

4


        "

against

" => 

3


        "

gd

" => 

1


        "

points

" => 

6


        "

created_at

" => "

2022-08-17 21:00:57

"
        "

updated_at

" => "

2022-08-17 21:00:57

"
      ]
      #

changes

: []
      #

casts

: []
      #

classCastCache

: []
      #

attributeCastCache

: []
      #

dates

: []
      #

dateFormat

: 

null


      #

appends

: 

array:1

 [
        

0

 => "

goals_for

"
      ]
      #

dispatchesEvents

: []
      #

observables

: []
      #

relations

: 

array:1

 [
        "

team

" => 

App\Models

\

Team {#2028
          #

connection

: "

mysql

"
          #

table

: "

teams

"
          #

primaryKey

: "

id

"
          #

keyType

: "

int

"
          +

incrementing

: 

true


          #

with

: 

array:1

 [ …1]
          #

withCount

: []
          +

preventsLazyLoading

: 

false


          #

perPage

: 

15


          +

exists

: 

true


          +

wasRecentlyCreated

: 

false


          #

escapeWhenCastingToString

: 

false


          #

attributes

: 

array:14

 [ …14]
          #

original

: 

array:14

 [ …14]
          #

changes

: []
          #

casts

: 

array:5

 [ …5]
          #

classCastCache

: []
          #

attributeCastCache

: []
          #

dates

: []
          #

dateFormat

: 

null


          #

appends

: 

array:7

 [ …7]
          #

dispatchesEvents

: []
          #

observables

: []
          #

relations

: 

array:1

 [ …1]
          #

touches

: []
          +

timestamps

: 

true


          #

hidden

: 

array:2

 [ …2]
          #

visible

: []
          #

fillable

: []
          #

guarded

: []
        }
      ]
      #

touches

: []
      +

timestamps

: 

true


      #

hidden

: []
      #

visible

: []
      #

fillable

: []
      #

guarded

: 

array:1

 [
        

0

 => "

*

"
      ]
    }
    

11

 => 

App\Models

\

LeagueTable {#2004
      #

connection

: "

mysql

"
      #

table

: "

league_tables

"
      #

primaryKey

: "

id

"
      #

keyType

: "

int

"
      +

incrementing

: 

true


      #

with

: []
      #

withCount

: []
      +

preventsLazyLoading

: 

false


      #

perPage

: 

15


      +

exists

: 

true


      +

wasRecentlyCreated

: 

false


      #

escapeWhenCastingToString

: 

false


      #

attributes

: 

array:16

 [
        "

id

" => 

102


        "

league_id

" => 

9


        "

team_id

" => 

122


        "

team_name

" => "

Plymouth Argyle

"
        "

form

" => "

WLWL

"
        "

position

" => 

12


        "

played

" => 

4


        "

won

" => 

2


        "

drawn

" => 

0


        "

lost

" => 

2


        "

for

" => 

5


        "

against

" => 

7


        "

gd

" => 

-2


        "

points

" => 

6


        "

created_at

" => "

2022-08-17 21:00:57

"
        "

updated_at

" => "

2022-08-17 21:00:57

"
      ]
      #

original

: 

array:16

 [
        "

id

" => 

102


        "

league_id

" => 

9


        "

team_id

" => 

122


        "

team_name

" => "

Plymouth Argyle

"
        "

form

" => "

WLWL

"
        "

position

" => 

12


        "

played

" => 

4


        "

won

" => 

2


        "

drawn

" => 

0


        "

lost

" => 

2


        "

for

" => 

5


        "

against

" => 

7


        "

gd

" => 

-2


        "

points

" => 

6


        "

created_at

" => "

2022-08-17 21:00:57

"
        "

updated_at

" => "

2022-08-17 21:00:57

"
      ]
      #

changes

: []
      #

casts

: []
      #

classCastCache

: []
      #

attributeCastCache

: []
      #

dates

: []
      #

dateFormat

: 

null


      #

appends

: 

array:1

 [
        

0

 => "

goals_for

"
      ]
      #

dispatchesEvents

: []
      #

observables

: []
      #

relations

: 

array:1

 [
        "

team

" => 

App\Models

\

Team {#2044
          #

connection

: "

mysql

"
          #

table

: "

teams

"
          #

primaryKey

: "

id

"
          #

keyType

: "

int

"
          +

incrementing

: 

true


          #

with

: 

array:1

 [ …1]
          #

withCount

: []
          +

preventsLazyLoading

: 

false


          #

perPage

: 

15


          +

exists

: 

true


          +

wasRecentlyCreated

: 

false


          #

escapeWhenCastingToString

: 

false


          #

attributes

: 

array:14

 [ …14]
          #

original

: 

array:14

 [ …14]
          #

changes

: []
          #

casts

: 

array:5

 [ …5]
          #

classCastCache

: []
          #

attributeCastCache

: []
          #

dates

: []
          #

dateFormat

: 

null


          #

appends

: 

array:7

 [ …7]
          #

dispatchesEvents

: []
          #

observables

: []
          #

relations

: 

array:1

 [ …1]
          #

touches

: []
          +

timestamps

: 

true


          #

hidden

: 

array:2

 [ …2]
          #

visible

: []
          #

fillable

: []
          #

guarded

: []
        }
      ]
      #

touches

: []
      +

timestamps

: 

true


      #

hidden

: []
      #

visible

: []
      #

fillable

: []
      #

guarded

: 

array:1

 [
        

0

 => "

*

"
      ]
    }
    

12

 => 

App\Models

\

LeagueTable {#2005
      #

connection

: "

mysql

"
      #

table

: "

league_tables

"
      #

primaryKey

: "

id

"
      #

keyType

: "

int

"
      +

incrementing

: 

true


      #

with

: []
      #

withCount

: []
      +

preventsLazyLoading

: 

false


      #

perPage

: 

15


      +

exists

: 

true


      +

wasRecentlyCreated

: 

false


      #

escapeWhenCastingToString

: 

false


      #

attributes

: 

array:16

 [
        "

id

" => 

103


        "

league_id

" => 

9


        "

team_id

" => 

92


        "

team_name

" => "

Cambridge United

"
        "

form

" => "

WLWL

"
        "

position

" => 

13


        "

played

" => 

4


        "

won

" => 

2


        "

drawn

" => 

0


        "

lost

" => 

2


        "

for

" => 

4


        "

against

" => 

6


        "

gd

" => 

-2


        "

points

" => 

6


        "

created_at

" => "

2022-08-17 21:00:57

"
        "

updated_at

" => "

2022-08-17 21:00:57

"
      ]
      #

original

: 

array:16

 [
        "

id

" => 

103


        "

league_id

" => 

9


        "

team_id

" => 

92


        "

team_name

" => "

Cambridge United

"
        "

form

" => "

WLWL

"
        "

position

" => 

13


        "

played

" => 

4


        "

won

" => 

2


        "

drawn

" => 

0


        "

lost

" => 

2


        "

for

" => 

4


        "

against

" => 

6


        "

gd

" => 

-2


        "

points

" => 

6


        "

created_at

" => "

2022-08-17 21:00:57

"
        "

updated_at

" => "

2022-08-17 21:00:57

"
      ]
      #

changes

: []
      #

casts

: []
      #

classCastCache

: []
      #

attributeCastCache

: []
      #

dates

: []
      #

dateFormat

: 

null


      #

appends

: 

array:1

 [
        

0

 => "

goals_for

"
      ]
      #

dispatchesEvents

: []
      #

observables

: []
      #

relations

: 

array:1

 [
        "

team

" => 

App\Models

\

Team {#2032
          #

connection

: "

mysql

"
          #

table

: "

teams

"
          #

primaryKey

: "

id

"
          #

keyType

: "

int

"
          +

incrementing

: 

true


          #

with

: 

array:1

 [ …1]
          #

withCount

: []
          +

preventsLazyLoading

: 

false


          #

perPage

: 

15


          +

exists

: 

true


          +

wasRecentlyCreated

: 

false


          #

escapeWhenCastingToString

: 

false


          #

attributes

: 

array:14

 [ …14]
          #

original

: 

array:14

 [ …14]
          #

changes

: []
          #

casts

: 

array:5

 [ …5]
          #

classCastCache

: []
          #

attributeCastCache

: []
          #

dates

: []
          #

dateFormat

: 

null


          #

appends

: 

array:7

 [ …7]
          #

dispatchesEvents

: []
          #

observables

: []
          #

relations

: 

array:1

 [ …1]
          #

touches

: []
          +

timestamps

: 

true


          #

hidden

: 

array:2

 [ …2]
          #

visible

: []
          #

fillable

: []
          #

guarded

: []
        }
      ]
      #

touches

: []
      +

timestamps

: 

true


      #

hidden

: []
      #

visible

: []
      #

fillable

: []
      #

guarded

: 

array:1

 [
        

0

 => "

*

"
      ]
    }
    

13

 => 

App\Models

\

LeagueTable {#2006
      #

connection

: "

mysql

"
      #

table

: "

league_tables

"
      #

primaryKey

: "

id

"
      #

keyType

: "

int

"
      +

incrementing

: 

true


      #

with

: []
      #

withCount

: []
      +

preventsLazyLoading

: 

false


      #

perPage

: 

15


      +

exists

: 

true


      +

wasRecentlyCreated

: 

false


      #

escapeWhenCastingToString

: 

false


      #

attributes

: 

array:16

 [
        "

id

" => 

104


        "

league_id

" => 

9


        "

team_id

" => 

128


        "

team_name

" => "

Accrington Stanley

"
        "

form

" => "

DWD

"
        "

position

" => 

14


        "

played

" => 

3


        "

won

" => 

1


        "

drawn

" => 

2


        "

lost

" => 

0


        "

for

" => 

7


        "

against

" => 

6


        "

gd

" => 

1


        "

points

" => 

5


        "

created_at

" => "

2022-08-17 21:00:57

"
        "

updated_at

" => "

2022-08-17 21:00:57

"
      ]
      #

original

: 

array:16

 [
        "

id

" => 

104


        "

league_id

" => 

9


        "

team_id

" => 

128


        "

team_name

" => "

Accrington Stanley

"
        "

form

" => "

DWD

"
        "

position

" => 

14


        "

played

" => 

3


        "

won

" => 

1


        "

drawn

" => 

2


        "

lost

" => 

0


        "

for

" => 

7


        "

against

" => 

6


        "

gd

" => 

1


        "

points

" => 

5


        "

created_at

" => "

2022-08-17 21:00:57

"
        "

updated_at

" => "

2022-08-17 21:00:57

"
      ]
      #

changes

: []
      #

casts

: []
      #

classCastCache

: []
      #

attributeCastCache

: []
      #

dates

: []
      #

dateFormat

: 

null


      #

appends

: 

array:1

 [
        

0

 => "

goals_for

"
      ]
      #

dispatchesEvents

: []
      #

observables

: []
      #

relations

: 

array:1

 [
        "

team

" => 

App\Models

\

Team {#2047
          #

connection

: "

mysql

"
          #

table

: "

teams

"
          #

primaryKey

: "

id

"
          #

keyType

: "

int

"
          +

incrementing

: 

true


          #

with

: 

array:1

 [ …1]
          #

withCount

: []
          +

preventsLazyLoading

: 

false


          #

perPage

: 

15


          +

exists

: 

true


          +

wasRecentlyCreated

: 

false


          #

escapeWhenCastingToString

: 

false


          #

attributes

: 

array:14

 [ …14]
          #

original

: 

array:14

 [ …14]
          #

changes

: []
          #

casts

: 

array:5

 [ …5]
          #

classCastCache

: []
          #

attributeCastCache

: []
          #

dates

: []
          #

dateFormat

: 

null


          #

appends

: 

array:7

 [ …7]
          #

dispatchesEvents

: []
          #

observables

: []
          #

relations

: 

array:1

 [ …1]
          #

touches

: []
          +

timestamps

: 

true


          #

hidden

: 

array:2

 [ …2]
          #

visible

: []
          #

fillable

: []
          #

guarded

: []
        }
      ]
      #

touches

: []
      +

timestamps

: 

true


      #

hidden

: []
      #

visible

: []
      #

fillable

: []
      #

guarded

: 

array:1

 [
        

0

 => "

*

"
      ]
    }
    

14

 => 

App\Models

\

LeagueTable {#2007
      #

connection

: "

mysql

"
      #

table

: "

league_tables

"
      #

primaryKey

: "

id

"
      #

keyType

: "

int

"
      +

incrementing

: 

true


      #

with

: []
      #

withCount

: []
      +

preventsLazyLoading

: 

false


      #

perPage

: 

15


      +

exists

: 

true


      +

wasRecentlyCreated

: 

false


      #

escapeWhenCastingToString

: 

false


      #

attributes

: 

array:16

 [
        "

id

" => 

105


        "

league_id

" => 

9


        "

team_id

" => 

107


        "

team_name

" => "

Fleetwood Town

"
        "

form

" => "

LWDD

"
        "

position

" => 

15


        "

played

" => 

4


        "

won

" => 

1


        "

drawn

" => 

2


        "

lost

" => 

1


        "

for

" => 

4


        "

against

" => 

4


        "

gd

" => 

0


        "

points

" => 

5


        "

created_at

" => "

2022-08-17 21:00:57

"
        "

updated_at

" => "

2022-08-17 21:00:57

"
      ]
      #

original

: 

array:16

 [
        "

id

" => 

105


        "

league_id

" => 

9


        "

team_id

" => 

107


        "

team_name

" => "

Fleetwood Town

"
        "

form

" => "

LWDD

"
        "

position

" => 

15


        "

played

" => 

4


        "

won

" => 

1


        "

drawn

" => 

2


        "

lost

" => 

1


        "

for

" => 

4


        "

against

" => 

4


        "

gd

" => 

0


        "

points

" => 

5


        "

created_at

" => "

2022-08-17 21:00:57

"
        "

updated_at

" => "

2022-08-17 21:00:57

"
      ]
      #

changes

: []
      #

casts

: []
      #

classCastCache

: []
      #

attributeCastCache

: []
      #

dates

: []
      #

dateFormat

: 

null


      #

appends

: 

array:1

 [
        

0

 => "

goals_for

"
      ]
      #

dispatchesEvents

: []
      #

observables

: []
      #

relations

: 

array:1

 [
        "

team

" => 

App\Models

\

Team {#2037
          #

connection

: "

mysql

"
          #

table

: "

teams

"
          #

primaryKey

: "

id

"
          #

keyType

: "

int

"
          +

incrementing

: 

true


          #

with

: 

array:1

 [ …1]
          #

withCount

: []
          +

preventsLazyLoading

: 

false


          #

perPage

: 

15


          +

exists

: 

true


          +

wasRecentlyCreated

: 

false


          #

escapeWhenCastingToString

: 

false


          #

attributes

: 

array:14

 [ …14]
          #

original

: 

array:14

 [ …14]
          #

changes

: []
          #

casts

: 

array:5

 [ …5]
          #

classCastCache

: []
          #

attributeCastCache

: []
          #

dates

: []
          #

dateFormat

: 

null


          #

appends

: 

array:7

 [ …7]
          #

dispatchesEvents

: []
          #

observables

: []
          #

relations

: 

array:1

 [ …1]
          #

touches

: []
          +

timestamps

: 

true


          #

hidden

: 

array:2

 [ …2]
          #

visible

: []
          #

fillable

: []
          #

guarded

: []
        }
      ]
      #

touches

: []
      +

timestamps

: 

true


      #

hidden

: []
      #

visible

: []
      #

fillable

: []
      #

guarded

: 

array:1

 [
        

0

 => "

*

"
      ]
    }
    

15

 => 

App\Models

\

LeagueTable {#2008
      #

connection

: "

mysql

"
      #

table

: "

league_tables

"
      #

primaryKey

: "

id

"
      #

keyType

: "

int

"
      +

incrementing

: 

true


      #

with

: []
      #

withCount

: []
      +

preventsLazyLoading

: 

false


      #

perPage

: 

15


      +

exists

: 

true


      +

wasRecentlyCreated

: 

false


      #

escapeWhenCastingToString

: 

false


      #

attributes

: 

array:16

 [
        "

id

" => 

106


        "

league_id

" => 

9


        "

team_id

" => 

118


        "

team_name

" => "

Shrewsbury Town

"
        "

form

" => "

DLWD

"
        "

position

" => 

16


        "

played

" => 

4


        "

won

" => 

1


        "

drawn

" => 

2


        "

lost

" => 

1


        "

for

" => 

2


        "

against

" => 

2


        "

gd

" => 

0


        "

points

" => 

5


        "

created_at

" => "

2022-08-17 21:00:57

"
        "

updated_at

" => "

2022-08-17 21:00:57

"
      ]
      #

original

: 

array:16

 [
        "

id

" => 

106


        "

league_id

" => 

9


        "

team_id

" => 

118


        "

team_name

" => "

Shrewsbury Town

"
        "

form

" => "

DLWD

"
        "

position

" => 

16


        "

played

" => 

4


        "

won

" => 

1


        "

drawn

" => 

2


        "

lost

" => 

1


        "

for

" => 

2


        "

against

" => 

2


        "

gd

" => 

0


        "

points

" => 

5


        "

created_at

" => "

2022-08-17 21:00:57

"
        "

updated_at

" => "

2022-08-17 21:00:57

"
      ]
      #

changes

: []
      #

casts

: []
      #

classCastCache

: []
      #

attributeCastCache

: []
      #

dates

: []
      #

dateFormat

: 

null


      #

appends

: 

array:1

 [
        

0

 => "

goals_for

"
      ]
      #

dispatchesEvents

: []
      #

observables

: []
      #

relations

: 

array:1

 [
        "

team

" => 

App\Models

\

Team {#2042
          #

connection

: "

mysql

"
          #

table

: "

teams

"
          #

primaryKey

: "

id

"
          #

keyType

: "

int

"
          +

incrementing

: 

true


          #

with

: 

array:1

 [ …1]
          #

withCount

: []
          +

preventsLazyLoading

: 

false


          #

perPage

: 

15


          +

exists

: 

true


          +

wasRecentlyCreated

: 

false


          #

escapeWhenCastingToString

: 

false


          #

attributes

: 

array:14

 [ …14]
          #

original

: 

array:14

 [ …14]
          #

changes

: []
          #

casts

: 

array:5

 [ …5]
          #

classCastCache

: []
          #

attributeCastCache

: []
          #

dates

: []
          #

dateFormat

: 

null


          #

appends

: 

array:7

 [ …7]
          #

dispatchesEvents

: []
          #

observables

: []
          #

relations

: 

array:1

 [ …1]
          #

touches

: []
          +

timestamps

: 

true


          #

hidden

: 

array:2

 [ …2]
          #

visible

: []
          #

fillable

: []
          #

guarded

: []
        }
      ]
      #

touches

: []
      +

timestamps

: 

true


      #

hidden

: []
      #

visible

: []
      #

fillable

: []
      #

guarded

: 

array:1

 [
        

0

 => "

*

"
      ]
    }
    

16

 => 

App\Models

\

LeagueTable {#2009
      #

connection

: "

mysql

"
      #

table

: "

league_tables

"
      #

primaryKey

: "

id

"
      #

keyType

: "

int

"
      +

incrementing

: 

true


      #

with

: []
      #

withCount

: []
      +

preventsLazyLoading

: 

false


      #

perPage

: 

15


      +

exists

: 

true


      +

wasRecentlyCreated

: 

false


      #

escapeWhenCastingToString

: 

false


      #

attributes

: 

array:16

 [
        "

id

" => 

107


        "

league_id

" => 

9


        "

team_id

" => 

104


        "

team_name

" => "

Forest Green Rovers

"
        "

form

" => "

WLD

"
        "

position

" => 

17


        "

played

" => 

3


        "

won

" => 

1


        "

drawn

" => 

1


        "

lost

" => 

1


        "

for

" => 

4


        "

against

" => 

4


        "

gd

" => 

0


        "

points

" => 

4


        "

created_at

" => "

2022-08-17 21:00:57

"
        "

updated_at

" => "

2022-08-17 21:00:57

"
      ]
      #

original

: 

array:16

 [
        "

id

" => 

107


        "

league_id

" => 

9


        "

team_id

" => 

104


        "

team_name

" => "

Forest Green Rovers

"
        "

form

" => "

WLD

"
        "

position

" => 

17


        "

played

" => 

3


        "

won

" => 

1


        "

drawn

" => 

1


        "

lost

" => 

1


        "

for

" => 

4


        "

against

" => 

4


        "

gd

" => 

0


        "

points

" => 

4


        "

created_at

" => "

2022-08-17 21:00:57

"
        "

updated_at

" => "

2022-08-17 21:00:57

"
      ]
      #

changes

: []
      #

casts

: []
      #

classCastCache

: []
      #

attributeCastCache

: []
      #

dates

: []
      #

dateFormat

: 

null


      #

appends

: 

array:1

 [
        

0

 => "

goals_for

"
      ]
      #

dispatchesEvents

: []
      #

observables

: []
      #

relations

: 

array:1

 [
        "

team

" => 

App\Models

\

Team {#2035
          #

connection

: "

mysql

"
          #

table

: "

teams

"
          #

primaryKey

: "

id

"
          #

keyType

: "

int

"
          +

incrementing

: 

true


          #

with

: 

array:1

 [ …1]
          #

withCount

: []
          +

preventsLazyLoading

: 

false


          #

perPage

: 

15


          +

exists

: 

true


          +

wasRecentlyCreated

: 

false


          #

escapeWhenCastingToString

: 

false


          #

attributes

: 

array:14

 [ …14]
          #

original

: 

array:14

 [ …14]
          #

changes

: []
          #

casts

: 

array:5

 [ …5]
          #

classCastCache

: []
          #

attributeCastCache

: []
          #

dates

: []
          #

dateFormat

: 

null


          #

appends

: 

array:7

 [ …7]
          #

dispatchesEvents

: []
          #

observables

: []
          #

relations

: 

array:1

 [ …1]
          #

touches

: []
          +

timestamps

: 

true


          #

hidden

: 

array:2

 [ …2]
          #

visible

: []
          #

fillable

: []
          #

guarded

: []
        }
      ]
      #

touches

: []
      +

timestamps

: 

true


      #

hidden

: []
      #

visible

: []
      #

fillable

: []
      #

guarded

: 

array:1

 [
        

0

 => "

*

"
      ]
    }
    

17

 => 

App\Models

\

LeagueTable {#2010
      #

connection

: "

mysql

"
      #

table

: "

league_tables

"
      #

primaryKey

: "

id

"
      #

keyType

: "

int

"
      +

incrementing

: 

true


      #

with

: []
      #

withCount

: []
      +

preventsLazyLoading

: 

false


      #

perPage

: 

15


      +

exists

: 

true


      +

wasRecentlyCreated

: 

false


      #

escapeWhenCastingToString

: 

false


      #

attributes

: 

array:16

 [
        "

id

" => 

108


        "

league_id

" => 

9


        "

team_id

" => 

87


        "

team_name

" => "

Port Vale

"
        "

form

" => "

WLDL

"
        "

position

" => 

18


        "

played

" => 

4


        "

won

" => 

1


        "

drawn

" => 

1


        "

lost

" => 

2


        "

for

" => 

3


        "

against

" => 

7


        "

gd

" => 

-4


        "

points

" => 

4


        "

created_at

" => "

2022-08-17 21:00:57

"
        "

updated_at

" => "

2022-08-17 21:00:57

"
      ]
      #

original

: 

array:16

 [
        "

id

" => 

108


        "

league_id

" => 

9


        "

team_id

" => 

87


        "

team_name

" => "

Port Vale

"
        "

form

" => "

WLDL

"
        "

position

" => 

18


        "

played

" => 

4


        "

won

" => 

1


        "

drawn

" => 

1


        "

lost

" => 

2


        "

for

" => 

3


        "

against

" => 

7


        "

gd

" => 

-4


        "

points

" => 

4


        "

created_at

" => "

2022-08-17 21:00:57

"
        "

updated_at

" => "

2022-08-17 21:00:57

"
      ]
      #

changes

: []
      #

casts

: []
      #

classCastCache

: []
      #

attributeCastCache

: []
      #

dates

: []
      #

dateFormat

: 

null


      #

appends

: 

array:1

 [
        

0

 => "

goals_for

"
      ]
      #

dispatchesEvents

: []
      #

observables

: []
      #

relations

: 

array:1

 [
        "

team

" => 

App\Models

\

Team {#2030
          #

connection

: "

mysql

"
          #

table

: "

teams

"
          #

primaryKey

: "

id

"
          #

keyType

: "

int

"
          +

incrementing

: 

true


          #

with

: 

array:1

 [ …1]
          #

withCount

: []
          +

preventsLazyLoading

: 

false


          #

perPage

: 

15


          +

exists

: 

true


          +

wasRecentlyCreated

: 

false


          #

escapeWhenCastingToString

: 

false


          #

attributes

: 

array:14

 [ …14]
          #

original

: 

array:14

 [ …14]
          #

changes

: []
          #

casts

: 

array:5

 [ …5]
          #

classCastCache

: []
          #

attributeCastCache

: []
          #

dates

: []
          #

dateFormat

: 

null


          #

appends

: 

array:7

 [ …7]
          #

dispatchesEvents

: []
          #

observables

: []
          #

relations

: 

array:1

 [ …1]
          #

touches

: []
          +

timestamps

: 

true


          #

hidden

: 

array:2

 [ …2]
          #

visible

: []
          #

fillable

: []
          #

guarded

: []
        }
      ]
      #

touches

: []
      +

timestamps

: 

true


      #

hidden

: []
      #

visible

: []
      #

fillable

: []
      #

guarded

: 

array:1

 [
        

0

 => "

*

"
      ]
    }
    

18

 => 

App\Models

\

LeagueTable {#2011
      #

connection

: "

mysql

"
      #

table

: "

league_tables

"
      #

primaryKey

: "

id

"
      #

keyType

: "

int

"
      +

incrementing

: 

true


      #

with

: []
      #

withCount

: []
      +

preventsLazyLoading

: 

false


      #

perPage

: 

15


      +

exists

: 

true


      +

wasRecentlyCreated

: 

false


      #

escapeWhenCastingToString

: 

false


      #

attributes

: 

array:16

 [
        "

id

" => 

109


        "

league_id

" => 

9


        "

team_id

" => 

121


        "

team_name

" => "

Oxford United

"
        "

form

" => "

LWLL

"
        "

position

" => 

19


        "

played

" => 

4


        "

won

" => 

1


        "

drawn

" => 

0


        "

lost

" => 

3


        "

for

" => 

2


        "

against

" => 

4


        "

gd

" => 

-2


        "

points

" => 

3


        "

created_at

" => "

2022-08-17 21:00:57

"
        "

updated_at

" => "

2022-08-17 21:00:57

"
      ]
      #

original

: 

array:16

 [
        "

id

" => 

109


        "

league_id

" => 

9


        "

team_id

" => 

121


        "

team_name

" => "

Oxford United

"
        "

form

" => "

LWLL

"
        "

position

" => 

19


        "

played

" => 

4


        "

won

" => 

1


        "

drawn

" => 

0


        "

lost

" => 

3


        "

for

" => 

2


        "

against

" => 

4


        "

gd

" => 

-2


        "

points

" => 

3


        "

created_at

" => "

2022-08-17 21:00:57

"
        "

updated_at

" => "

2022-08-17 21:00:57

"
      ]
      #

changes

: []
      #

casts

: []
      #

classCastCache

: []
      #

attributeCastCache

: []
      #

dates

: []
      #

dateFormat

: 

null


      #

appends

: 

array:1

 [
        

0

 => "

goals_for

"
      ]
      #

dispatchesEvents

: []
      #

observables

: []
      #

relations

: 

array:1

 [
        "

team

" => 

App\Models

\

Team {#2043
          #

connection

: "

mysql

"
          #

table

: "

teams

"
          #

primaryKey

: "

id

"
          #

keyType

: "

int

"
          +

incrementing

: 

true


          #

with

: 

array:1

 [ …1]
          #

withCount

: []
          +

preventsLazyLoading

: 

false


          #

perPage

: 

15


          +

exists

: 

true


          +

wasRecentlyCreated

: 

false


          #

escapeWhenCastingToString

: 

false


          #

attributes

: 

array:14

 [ …14]
          #

original

: 

array:14

 [ …14]
          #

changes

: []
          #

casts

: 

array:5

 [ …5]
          #

classCastCache

: []
          #

attributeCastCache

: []
          #

dates

: []
          #

dateFormat

: 

null


          #

appends

: 

array:7

 [ …7]
          #

dispatchesEvents

: []
          #

observables

: []
          #

relations

: 

array:1

 [ …1]
          #

touches

: []
          +

timestamps

: 

true


          #

hidden

: 

array:2

 [ …2]
          #

visible

: []
          #

fillable

: []
          #

guarded

: []
        }
      ]
      #

touches

: []
      +

timestamps

: 

true


      #

hidden

: []
      #

visible

: []
      #

fillable

: []
      #

guarded

: 

array:1

 [
        

0

 => "

*

"
      ]
    }
    

19

 => 

App\Models

\

LeagueTable {#2012
      #

connection

: "

mysql

"
      #

table

: "

league_tables

"
      #

primaryKey

: "

id

"
      #

keyType

: "

int

"
      +

incrementing

: 

true


      #

with

: []
      #

withCount

: []
      +

preventsLazyLoading

: 

false


      #

perPage

: 

15


      +

exists

: 

true


      +

wasRecentlyCreated

: 

false


      #

escapeWhenCastingToString

: 

false


      #

attributes

: 

array:16

 [
        "

id

" => 

110


        "

league_id

" => 

9


        "

team_id

" => 

115


        "

team_name

" => "

Wycombe Wanderers

"
        "

form

" => "

WLLL

"
        "

position

" => 

20


        "

played

" => 

4


        "

won

" => 

1


        "

drawn

" => 

0


        "

lost

" => 

3


        "

for

" => 

5


        "

against

" => 

8


        "

gd

" => 

-3


        "

points

" => 

3


        "

created_at

" => "

2022-08-17 21:00:57

"
        "

updated_at

" => "

2022-08-17 21:00:57

"
      ]
      #

original

: 

array:16

 [
        "

id

" => 

110


        "

league_id

" => 

9


        "

team_id

" => 

115


        "

team_name

" => "

Wycombe Wanderers

"
        "

form

" => "

WLLL

"
        "

position

" => 

20


        "

played

" => 

4


        "

won

" => 

1


        "

drawn

" => 

0


        "

lost

" => 

3


        "

for

" => 

5


        "

against

" => 

8


        "

gd

" => 

-3


        "

points

" => 

3


        "

created_at

" => "

2022-08-17 21:00:57

"
        "

updated_at

" => "

2022-08-17 21:00:57

"
      ]
      #

changes

: []
      #

casts

: []
      #

classCastCache

: []
      #

attributeCastCache

: []
      #

dates

: []
      #

dateFormat

: 

null


      #

appends

: 

array:1

 [
        

0

 => "

goals_for

"
      ]
      #

dispatchesEvents

: []
      #

observables

: []
      #

relations

: 

array:1

 [
        "

team

" => 

App\Models

\

Team {#2040
          #

connection

: "

mysql

"
          #

table

: "

teams

"
          #

primaryKey

: "

id

"
          #

keyType

: "

int

"
          +

incrementing

: 

true


          #

with

: 

array:1

 [ …1]
          #

withCount

: []
          +

preventsLazyLoading

: 

false


          #

perPage

: 

15


          +

exists

: 

true


          +

wasRecentlyCreated

: 

false


          #

escapeWhenCastingToString

: 

false


          #

attributes

: 

array:14

 [ …14]
          #

original

: 

array:14

 [ …14]
          #

changes

: []
          #

casts

: 

array:5

 [ …5]
          #

classCastCache

: []
          #

attributeCastCache

: []
          #

dates

: []
          #

dateFormat

: 

null


          #

appends

: 

array:7

 [ …7]
          #

dispatchesEvents

: []
          #

observables

: []
          #

relations

: 

array:1

 [ …1]
          #

touches

: []
          +

timestamps

: 

true


          #

hidden

: 

array:2

 [ …2]
          #

visible

: []
          #

fillable

: []
          #

guarded

: []
        }
      ]
      #

touches

: []
      +

timestamps

: 

true


      #

hidden

: []
      #

visible

: []
      #

fillable

: []
      #

guarded

: 

array:1

 [
        

0

 => "

*

"
      ]
    }
    

20

 => 

App\Models

\

LeagueTable {#2013
      #

connection

: "

mysql

"
      #

table

: "

league_tables

"
      #

primaryKey

: "

id

"
      #

keyType

: "

int

"
      +

incrementing

: 

true


      #

with

: []
      #

withCount

: []
      +

preventsLazyLoading

: 

false


      #

perPage

: 

15


      +

exists

: 

true


      +

wasRecentlyCreated

: 

false


      #

escapeWhenCastingToString

: 

false


      #

attributes

: 

array:16

 [
        "

id

" => 

111


        "

league_id

" => 

9


        "

team_id

" => 

85


        "

team_name

" => "

Milton Keynes Dons

"
        "

form

" => "

LLLW

"
        "

position

" => 

21


        "

played

" => 

4


        "

won

" => 

1


        "

drawn

" => 

0


        "

lost

" => 

3


        "

for

" => 

2


        "

against

" => 

6


        "

gd

" => 

-4


        "

points

" => 

3


        "

created_at

" => "

2022-08-17 21:00:57

"
        "

updated_at

" => "

2022-08-17 21:00:57

"
      ]
      #

original

: 

array:16

 [
        "

id

" => 

111


        "

league_id

" => 

9


        "

team_id

" => 

85


        "

team_name

" => "

Milton Keynes Dons

"
        "

form

" => "

LLLW

"
        "

position

" => 

21


        "

played

" => 

4


        "

won

" => 

1


        "

drawn

" => 

0


        "

lost

" => 

3


        "

for

" => 

2


        "

against

" => 

6


        "

gd

" => 

-4


        "

points

" => 

3


        "

created_at

" => "

2022-08-17 21:00:57

"
        "

updated_at

" => "

2022-08-17 21:00:57

"
      ]
      #

changes

: []
      #

casts

: []
      #

classCastCache

: []
      #

attributeCastCache

: []
      #

dates

: []
      #

dateFormat

: 

null


      #

appends

: 

array:1

 [
        

0

 => "

goals_for

"
      ]
      #

dispatchesEvents

: []
      #

observables

: []
      #

relations

: 

array:1

 [
        "

team

" => 

App\Models

\

Team {#2029
          #

connection

: "

mysql

"
          #

table

: "

teams

"
          #

primaryKey

: "

id

"
          #

keyType

: "

int

"
          +

incrementing

: 

true


          #

with

: 

array:1

 [ …1]
          #

withCount

: []
          +

preventsLazyLoading

: 

false


          #

perPage

: 

15


          +

exists

: 

true


          +

wasRecentlyCreated

: 

false


          #

escapeWhenCastingToString

: 

false


          #

attributes

: 

array:14

 [ …14]
          #

original

: 

array:14

 [ …14]
          #

changes

: []
          #

casts

: 

array:5

 [ …5]
          #

classCastCache

: []
          #

attributeCastCache

: []
          #

dates

: []
          #

dateFormat

: 

null


          #

appends

: 

array:7

 [ …7]
          #

dispatchesEvents

: []
          #

observables

: []
          #

relations

: 

array:1

 [ …1]
          #

touches

: []
          +

timestamps

: 

true


          #

hidden

: 

array:2

 [ …2]
          #

visible

: []
          #

fillable

: []
          #

guarded

: []
        }
      ]
      #

touches

: []
      +

timestamps

: 

true


      #

hidden

: []
      #

visible

: []
      #

fillable

: []
      #

guarded

: 

array:1

 [
        

0

 => "

*

"
      ]
    }
    

21

 => 

App\Models

\

LeagueTable {#2014
      #

connection

: "

mysql

"
      #

table

: "

league_tables

"
      #

primaryKey

: "

id

"
      #

keyType

: "

int

"
      +

incrementing

: 

true


      #

with

: []
      #

withCount

: []
      +

preventsLazyLoading

: 

false


      #

perPage

: 

15


      +

exists

: 

true


      +

wasRecentlyCreated

: 

false


      #

escapeWhenCastingToString

: 

false


      #

attributes

: 

array:16

 [
        "

id

" => 

112


        "

league_id

" => 

9


        "

team_id

" => 

95


        "

team_name

" => "

Morecambe

"
        "

form

" => "

DLDL

"
        "

position

" => 

22


        "

played

" => 

4


        "

won

" => 

0


        "

drawn

" => 

2


        "

lost

" => 

2


        "

for

" => 

1


        "

against

" => 

5


        "

gd

" => 

-4


        "

points

" => 

2


        "

created_at

" => "

2022-08-17 21:00:57

"
        "

updated_at

" => "

2022-08-17 21:00:57

"
      ]
      #

original

: 

array:16

 [
        "

id

" => 

112


        "

league_id

" => 

9


        "

team_id

" => 

95


        "

team_name

" => "

Morecambe

"
        "

form

" => "

DLDL

"
        "

position

" => 

22


        "

played

" => 

4


        "

won

" => 

0


        "

drawn

" => 

2


        "

lost

" => 

2


        "

for

" => 

1


        "

against

" => 

5


        "

gd

" => 

-4


        "

points

" => 

2


        "

created_at

" => "

2022-08-17 21:00:57

"
        "

updated_at

" => "

2022-08-17 21:00:57

"
      ]
      #

changes

: []
      #

casts

: []
      #

classCastCache

: []
      #

attributeCastCache

: []
      #

dates

: []
      #

dateFormat

: 

null


      #

appends

: 

array:1

 [
        

0

 => "

goals_for

"
      ]
      #

dispatchesEvents

: []
      #

observables

: []
      #

relations

: 

array:1

 [
        "

team

" => 

App\Models

\

Team {#2034
          #

connection

: "

mysql

"
          #

table

: "

teams

"
          #

primaryKey

: "

id

"
          #

keyType

: "

int

"
          +

incrementing

: 

true


          #

with

: 

array:1

 [ …1]
          #

withCount

: []
          +

preventsLazyLoading

: 

false


          #

perPage

: 

15


          +

exists

: 

true


          +

wasRecentlyCreated

: 

false


          #

escapeWhenCastingToString

: 

false


          #

attributes

: 

array:14

 [ …14]
          #

original

: 

array:14

 [ …14]
          #

changes

: []
          #

casts

: 

array:5

 [ …5]
          #

classCastCache

: []
          #

attributeCastCache

: []
          #

dates

: []
          #

dateFormat

: 

null


          #

appends

: 

array:7

 [ …7]
          #

dispatchesEvents

: []
          #

observables

: []
          #

relations

: 

array:1

 [ …1]
          #

touches

: []
          +

timestamps

: 

true


          #

hidden

: 

array:2

 [ …2]
          #

visible

: []
          #

fillable

: []
          #

guarded

: []
        }
      ]
      #

touches

: []
      +

timestamps

: 

true


      #

hidden

: []
      #

visible

: []
      #

fillable

: []
      #

guarded

: 

array:1

 [
        

0

 => "

*

"
      ]
    }
    

22

 => 

App\Models

\

LeagueTable {#2015
      #

connection

: "

mysql

"
      #

table

: "

league_tables

"
      #

primaryKey

: "

id

"
      #

keyType

: "

int

"
      +

incrementing

: 

true


      #

with

: []
      #

withCount

: []
      +

preventsLazyLoading

: 

false


      #

perPage

: 

15


      +

exists

: 

true


      +

wasRecentlyCreated

: 

false


      #

escapeWhenCastingToString

: 

false


      #

attributes

: 

array:16

 [
        "

id

" => 

113


        "

league_id

" => 

9


        "

team_id

" => 

91


        "

team_name

" => "

Cheltenham Town

"
        "

form

" => "

LLLD

"
        "

position

" => 

23


        "

played

" => 

4


        "

won

" => 

0


        "

drawn

" => 

1


        "

lost

" => 

3


        "

for

" => 

2


        "

against

" => 

6


        "

gd

" => 

-4


        "

points

" => 

1


        "

created_at

" => "

2022-08-17 21:00:58

"
        "

updated_at

" => "

2022-08-17 21:00:58

"
      ]
      #

original

: 

array:16

 [
        "

id

" => 

113


        "

league_id

" => 

9


        "

team_id

" => 

91


        "

team_name

" => "

Cheltenham Town

"
        "

form

" => "

LLLD

"
        "

position

" => 

23


        "

played

" => 

4


        "

won

" => 

0


        "

drawn

" => 

1


        "

lost

" => 

3


        "

for

" => 

2


        "

against

" => 

6


        "

gd

" => 

-4


        "

points

" => 

1


        "

created_at

" => "

2022-08-17 21:00:58

"
        "

updated_at

" => "

2022-08-17 21:00:58

"
      ]
      #

changes

: []
      #

casts

: []
      #

classCastCache

: []
      #

attributeCastCache

: []
      #

dates

: []
      #

dateFormat

: 

null


      #

appends

: 

array:1

 [
        

0

 => "

goals_for

"
      ]
      #

dispatchesEvents

: []
      #

observables

: []
      #

relations

: 

array:1

 [
        "

team

" => 

App\Models

\

Team {#2031
          #

connection

: "

mysql

"
          #

table

: "

teams

"
          #

primaryKey

: "

id

"
          #

keyType

: "

int

"
          +

incrementing

: 

true


          #

with

: 

array:1

 [ …1]
          #

withCount

: []
          +

preventsLazyLoading

: 

false


          #

perPage

: 

15


          +

exists

: 

true


          +

wasRecentlyCreated

: 

false


          #

escapeWhenCastingToString

: 

false


          #

attributes

: 

array:14

 [ …14]
          #

original

: 

array:14

 [ …14]
          #

changes

: []
          #

casts

: 

array:5

 [ …5]
          #

classCastCache

: []
          #

attributeCastCache

: []
          #

dates

: []
          #

dateFormat

: 

null


          #

appends

: 

array:7

 [ …7]
          #

dispatchesEvents

: []
          #

observables

: []
          #

relations

: 

array:1

 [ …1]
          #

touches

: []
          +

timestamps

: 

true


          #

hidden

: 

array:2

 [ …2]
          #

visible

: []
          #

fillable

: []
          #

guarded

: []
        }
      ]
      #

touches

: []
      +

timestamps

: 

true


      #

hidden

: []
      #

visible

: []
      #

fillable

: []
      #

guarded

: 

array:1

 [
        

0

 => "

*

"
      ]
    }
    

23

 => 

App\Models

\

LeagueTable {#2016
      #

connection

: "

mysql

"
      #

table

: "

league_tables

"
      #

primaryKey

: "

id

"
      #

keyType

: "

int

"
      +

incrementing

: 

true


      #

with

: []
      #

withCount

: []
      +

preventsLazyLoading

: 

false


      #

perPage

: 

15


      +

exists

: 

true


      +

wasRecentlyCreated

: 

false


      #

escapeWhenCastingToString

: 

false


      #

attributes

: 

array:16

 [
        "

id

" => 

114


        "

league_id

" => 

9


        "

team_id

" => 

112


        "

team_name

" => "

Burton Albion

"
        "

form

" => "

LLDL

"
        "

position

" => 

24


        "

played

" => 

4


        "

won

" => 

0


        "

drawn

" => 

1


        "

lost

" => 

3


        "

for

" => 

4


        "

against

" => 

12


        "

gd

" => 

-8


        "

points

" => 

1


        "

created_at

" => "

2022-08-17 21:00:58

"
        "

updated_at

" => "

2022-08-17 21:00:58

"
      ]
      #

original

: 

array:16

 [
        "

id

" => 

114


        "

league_id

" => 

9


        "

team_id

" => 

112


        "

team_name

" => "

Burton Albion

"
        "

form

" => "

LLDL

"
        "

position

" => 

24


        "

played

" => 

4


        "

won

" => 

0


        "

drawn

" => 

1


        "

lost

" => 

3


        "

for

" => 

4


        "

against

" => 

12


        "

gd

" => 

-8


        "

points

" => 

1


        "

created_at

" => "

2022-08-17 21:00:58

"
        "

updated_at

" => "

2022-08-17 21:00:58

"
      ]
      #

changes

: []
      #

casts

: []
      #

classCastCache

: []
      #

attributeCastCache

: []
      #

dates

: []
      #

dateFormat

: 

null


      #

appends

: 

array:1

 [
        

0

 => "

goals_for

"
      ]
      #

dispatchesEvents

: []
      #

observables

: []
      #

relations

: 

array:1

 [
        "

team

" => 

App\Models

\

Team {#2038
          #

connection

: "

mysql

"
          #

table

: "

teams

"
          #

primaryKey

: "

id

"
          #

keyType

: "

int

"
          +

incrementing

: 

true


          #

with

: 

array:1

 [ …1]
          #

withCount

: []
          +

preventsLazyLoading

: 

false


          #

perPage

: 

15


          +

exists

: 

true


          +

wasRecentlyCreated

: 

false


          #

escapeWhenCastingToString

: 

false


          #

attributes

: 

array:14

 [ …14]
          #

original

: 

array:14

 [ …14]
          #

changes

: []
          #

casts

: 

array:5

 [ …5]
          #

classCastCache

: []
          #

attributeCastCache

: []
          #

dates

: []
          #

dateFormat

: 

null


          #

appends

: 

array:7

 [ …7]
          #

dispatchesEvents

: []
          #

observables

: []
          #

relations

: 

array:1

 [ …1]
          #

touches

: []
          +

timestamps

: 

true


          #

hidden

: 

array:2

 [ …2]
          #

visible

: []
          #

fillable

: []
          #

guarded

: []
        }
      ]
      #

touches

: []
      +

timestamps

: 

true


      #

hidden

: []
      #

visible

: []
      #

fillable

: []
      #

guarded

: 

array:1

 [
        

0

 => "

*

"
      ]
    }
  ]
  #

escapeWhenCastingToString

: 

false


}